ATN review: Sus
Reviewed By Karla Williams
Published, June 24, 2009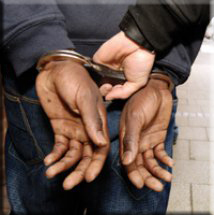 If you're expecting a fun, light hearted play that will keep you happy and entertained than Gbolahan Obisesan's production of Barrie Keefe's Sus is definitely not for you.
Set in a police interrogation room on the eve of the 1979 elections, it tells the story of Delroy (Dyer) who has been picked up on what he believes to be Sus; the stop-and-search law that permits a police officer to act on suspicion alone. The real reason for his arrest is the strange circumstances surrounding his wife's death and police officers Karn (Moriarty) and Wilby (Spruell) will do anything they can to get him to confess – regardless of whether they have any evidence or not.
While the play appears to be addressing the issues of police brutality and institutionalised racism within the force, the real subject matter is more of a political one, in particular the expectations held by the impending prospect of a Tory government.  After years being run by Labour Prime Minister James Callaghan, the middle classes have become fed up with the Nanny State mentality of handout after handout which is reflected in the attitudes of Officer Karn toward Delroy – an unemployed, father of three who spends more time in the pub then looking for a job. For Karn, a Tory government would finally put a stop the lazy, indolent working classes and thus make Britain a better place for all. 
Although written in 1979, the play feels incredibly relevant as British society currently find
its self in a similar position after spending 10 years under a more-harm-than-good Labour government. Obisesan is definitely a name to watch and he has crafted an excellent production which fully highlights the complexities and detail of Keefe's script. He is supported by an equally strong ensemble cast who play each of their roles brilliantly.
While the pace and subject matter will not be to everyone's taste, Sus is a thought and conversation provoking play that highlights the inescapable effects of the government on British society and mentality.
Written by Barrie Keeffe
Directed by Gbolahan Obisesan
Cast: Clint Dyer, Paul Moriarty and Sam Spruell