ATN book review: Suckle by Roger Robinson
Reviewed by Femi Fola
Published Tuesday, June 30, 2009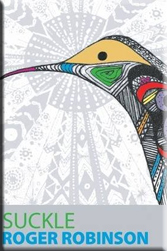 Roger Robinson has been hailed as one of the most influential black writers of the past 50 years in Britain; garnering awards and acclaim worldwide for his poetry, while sustaining a large fan base for his energetic live performances. His new collection, Suckle, provides a beautifully rendered, panoramic portrait of his Trinidadian roots, evoking everything from tin shacks and inclemental weather to modern day sex tourism and past slavery.
Robinson displays great skill in changing perspective to give the full range of experience. At points, such as with 'haircut' and the poignant 'Nest' you get a sense of the child figuring out the world around him, confused and dealing tentatively with mortality. At other times he can take on a female persona, most strikingly in 'The Misuse of Magic,' a fragmented piece that touches upon the subject of abuse.
But while never shying away from darker topics, Suckle in essence is a celebration of the past and how it lives on in the present. Through the poems we understand not only what is remembered but also how he remembers it. Sight, sounds and smells all combine to evoke his recollections, 'It's the punch-a-crème filled with condensed milk and rum so thick you wait for it to pour itself/It's the stale breath of cigarettes, rum and coke on uncles who stab themselves with needles dripping insulin.'
However, while his memory takes him back amongst the atmosphere of family, friends and neighbours, Robinson simultaneously steps out to view the whole. 'The End of the Bread Van' for instance manages to link close friendship, poverty, local crime and oil company exploitation in a humorous manner; charting a none-too-smart protagonist carrying out an unsuccessful stick-up with his mother's stockings on his head.
Robinson, above all, is a consummate artist who effortlessly shines a light on all corners of experience with great understanding and humanity. Its his non-judgemental, non-obstructive stance that let his words stand for their own; creating in your mind images of people, places and actions that are as boldly outlined as his poems are boldly crafted. Suckle in magnificently realising a Trinidadian past-helps elevate your spirit to a place where many would physically wish to be this summer. In these financially straightened times though, you could do a lot worse than curl up with this collection, at home or otherwise.
Roger Robinson's Suckle is available from late July 2009 and is accompanied by a national reading tour.