ATN review: Stephen K Amos, Hackney Empire
Reviewed by Havana Blanche
Published June 16, 2009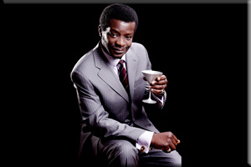 With the prospect of a wet and rainy weekend and the rumours that the BNP were going to clean up during the European Members of Parliament elections, I needed a good laugh. Cue the last night of Stephen's Find the Funny UK tour at Hackney Empire.
Did I find it funny? Most definitely! I didn't need to look hard to find the funny as Stephen and his warm up act Sean Walsh had me doubled up with stitches. The sold-out audience loved every minute of the show and I left the theatre with tears in my eyes and a desperate need to go to the toilet.
Sean Walsh was excellent. I was impressed with his subject matter and comedic timing, especially as he is 23 and from Brighton! (Sorry, a little Brighton joke there!) A relative newcomer but one to keep an eye on, Sean entertained the entire, diverse audience comparing Brighton to London, creating new anti-binge drink adverts and discussing the man on the Fire Exit signs. However Sean couldn't compete with the comedy genius of Stephen who received a massive applause when he came on stage for the first time, although I am unsure all members of the audience recognized him underneath his fabulous native Nigerian outfit.
Stephen demonstrated why he is considered the cream of British stand-up by joking about his childhood and parents, as well as interesting characters he has met on his travels. Considering I find it impossible to eat in Hackney after 6pm other than in Wetherspoons, I loved Stephen's constant criticism of Hackney as an area. Stephen's reactions and ongoing sarcastic and snide comments was pure gold and had me grabbing my sides in an attempt to stop them from splitting! Unfortunately a young lady in the front row bore the brunt of this as she was only 11-years-old and had been brought along by her parents who were unable to get a babysitter. Stephen's shock and call for social workers in the house raised laughs from all apart from the family in question.
Although Stephen encouraged audience participation, one member of the audience took this too far and continuously interrupted and shouted out random comments from the back of the gallery. Some comedians would have been put off and unable to maintain control of the show, not Stephen. His super quick comebacks and intelligent put downs were so funny, providing an excellent insight into Stephen's natural comedic style and personality.
I had the best Friday night I've had in ages. Like Stephen and all 1300 of the Hackney Empire audience, I am now secretly awaiting the death of Lenny Henry so Stephen can take over the BBC and the Travel Lodge adverts! Sorry, Lenny.