ATN Review: State of Emergency Presents Mission Possible Dads and Lads Move at The Place
By Sophia Jackson
Published, Wednesday, March 25, 2009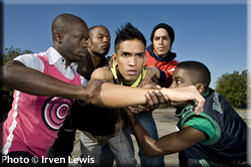 The title of State of Emergency's latest showcase is almost like a call to action as it demands Mission Possible: Dads and Lads Move. The move is collated by leading black British choreographers, Jeanefer Jean Charles, Kwesi Johnson and Colin Poole. Together, they have crafted a beautiful piece of dance that reflects on the relationships between men during various life changes and experiences.
The three piece production is topical in its approach by using male dancers to explore the issue of role models or even the lack of role models for young males whether at home or relationships built outside of the home.
The staging is simple but alters slightly with each presentation of It's A Boy, Wilderness and 4s':Kin and each highlight a different aspect of the male experience. It's A Boy uses statistics on gun and knife crime to accompany the dance sequences which portrays the consequences of a simple misunderstanding.
The sound bites are effective alongside the skilful movements of the talented dancers particularly a line in Wilderness where it seems a father confuses his son's need of his presence and not presents.
The final showcase, 4's: Kin, a play on the word foreskin, is the most light-hearted and boisterous of the three and makes a fitting finale in its analysis of male friendships and physical interaction.
It's a shame that the 'beef' that we see on today's streets can't be resolved with a break dancing battle of dancing expertise instead of the reality of gun and knife crime that we are faced with instead.
There are minimal props but this is a successful mix of sound bites and musical accompaniment from the passion of classical scores to thumping beats; these performances were enjoyable to watch. It's great to see male relationships examined in this way, more of the same, please.
State of Emergency is on tour with Mission Possible: Dads and Lads Move until 9 April.