ATN review: Sister Act the Musical
Reviewed by Sophia Jackson
Published, Saturday, June 6, 2009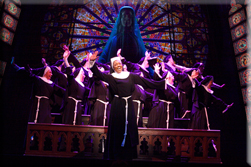 Whoopi Goldberg's 90s movie, Sister Act, has been reborn as a musical and what a joyous rendition of the successful film it is.  The plot doesn't stray too much from the original but it is Sister Act with a difference.
Deloris is a singer on the verge of the big time but her gangster boyfriend, Curtis, is more of a hindrance than an aid to her pending success. One night after another one of her loser boyfriend's failed promises of an A&R coming to hear her perform and snapping up the songstress, she witnesses a murder that Curtis is embroiled in.
One disappointment too many Deloris flees the scene and heads straight to the police station where her childhood friend and police officer, the unfortunate sweaty Eddie convinces her that the best place for her to hide is within the confines of a convent.
Goldberg's Deloris is played by a feisty Patina Miller who leads the show and is magnificent throughout. Her vocals are powerful and she gives the part her all. Miller sparkles as much as her glitzy and somewhat outlandish wardrobe in the show.
A little slow in parts at first, the show comes alive as does the convent when  Deloris  descends on Mother Superior (Sheila Hancock) with her crass ways and outspoken attitude but there's no denying the  immediate transformation of nun life as she causes havoc and life as they know it becomes a thing of the past.
Deloris is set to task with using her God-given singing talent on working on the nun choir. The nuns are having so much fun as Deloris leads the shrinking violets, that the audience can only join in the frivolity by tapping their feet and clapping their hands to the roof-raising anthems inspired by gospel, Motown soul and 70s disco.
This is a big budget production with a fun musical score, breath-taking set designs and the same wit that was found in the film version. Look out for the gradual glamourisation of the nuns and their habits. As the story gathers momentum so to do their habits become more fabulous.
If you liked the film then you'll love the stage adaptation. This is one for all the family and a sure hit for the summer and beyond. A class act with sisters doing it for themselves and a well deserved standing ovation keeps the audience on a high long after the curtain call.