ATN review: Scratched Out, Riverside Studios, Hammersmith
Reviewed by Yusef Lewis
Published, Saturday, June 6, 2009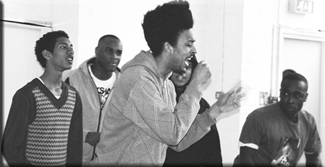 There I am heading towards the Riverside Studios in Hammersmith. It's one of those rainy days in April and I'm in need of something to uplift the spirit. On entering the auditorium I was blessed with nice hip hop instrumentals, whilst walking past a collective on stage who looked like they were having their own little private cipher. It made me feel like stepping in and throwing down a few bars myself.
The venue was small and intimate. The turnout was nice. Everything was in place for a nice evening of theatrical entertainment. The main door closed and the lights went down. The small huddle who were ciphering set into a nice choreographed formation and so the show began.
Scratched out is about six inner city youths, with ambitions to make it in the music industry, but having to fight the everyday adversities that urban youths have to face.
The show starts with a dynamic poem, breaking down the scene.  It talked about the youths in their uniform and the microphone being a woman. It was a nice impact to start the show off. Through this you get a good insight as to what this production is about.
The show has a good blend of characters that most people should instantly relate to, especially if you're from inner city life. Good script writing and the delivery was sharp.  Credit to the whole cast as they made the best of the space and props they had.
It was nice to see youths channelling their energy properly. We need more productions like this. I recommend anyone to catch it when they can because it's a good show. We need more urban arts on centre stage.
Scratched Out was at the Riverside Studios from 6 – 30 April, 2009.