ATN Review: Private Thoughts, Hackney Empire
Reviewed by Jennifer Rock
Published Wednesday, April 15, 2009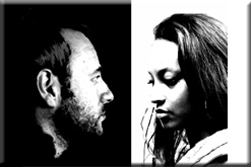 Alex Martinez's 'Private thoughts' dared to boldly go where others haven't ventured before. Tackling an extremely taboo subject in an area not necessarily explored in such graphic detail, made for both awkward and uncomfortable viewing.
Although not the most edifying of subject matter, it spurred us to challenge our perceptions of what is a becoming an increasingly sad reality.
Eric Godber is a man plagued by obsessive thoughts of paedophilia, hoping for a quick fix, he visits Dr Chase, a clinical therapist who pushes him to reveal his inner-most depraved thoughts and fantasies that disgusts both the audience and himself.
Set in a small studio room above Hackney Empire's main stage, this two-hander play is performed by Kevin McGowan (Eric) and Clara Onyemere (Dr Chase).
It was unfortunate that the characters lacked realism and credible depth, we weren't totally sold by their conviction and certainly not by the character's motivations. As the words trickled off their tongue, I could hear the script but could not see the performance.
Equally disappointing was Martinez's choice to depend on clichéd reasoning such as divorce, childhood and repressed anger, whilst a good vehicle towards the exploration and understanding of emotions, there was undeniably missed opportunities to discovering possibly new ideas and rationales.
Scripted with a lot of dialogue, I have to commend these actors for taking on such magnanimous parts which other actors may have shied away from.
With that being said, by the encore, it was obvious that the play had come to an abrupt end which left the audience to fill in the gaps. But one thing is for sure, as we delved deeper into unfamiliar territory, some of our innocence and naivety was certainly lost along the way.