ATN Review: Royal Shakespeare Company's Othello, Hackney Empire
Karla Williams
Published, Friday, 13 February, 2009

After starting the tour in Warwick the RSC's Othello takes residence at the Hackney Empire for one week only. West African performance artist Patrice Naiambana takes the title role with Natalia Tena playing his wife and subsequent murder victim Desdemona. Shakespeare's original text is performed without any significant edits or changes however the play is set in the 1950's, bringing an unusual take on the story of the world famous Moor.
Further to this director Kathryn Hunter has decided to emphasise the sexual elements in Othello and Desdemona's relationship which subsequently includes a bare-chested Desdemona and highly suggestive (and a tad disturbing) hand movements during one of Iago speeches.
The play starts off well and the use of live, African-infused, music and the opening musical sequence lead you believe you're in for a treat. Patrice also often falls in an out of an African accent which adds a humour to Othello, not normally seen. The production uses some good set pieces for example the moving frame that is used as a bridge, ship and stage and the white sheet technique used to signify Desdemona's dreaming state are both really effective. The costumes are also successful in authentically representing the time period; especially Desdemona's whose beautiful dresses, gorgeous shoes and exquisite bathing suit really catch your eye.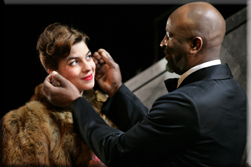 However the play soon reaches a plateau as it unfortunately lacks any consistent engagement or entertainment. While none of the actors are bad, neither of them stand out as being particularly convincing and at times the dialogue between them becomes unclear and difficult to understand. This isn't helped by the plays length which is over three hours long. This really drags the story and you find yourself waiting for the interval and then waiting for the end.
The set and setting of RSC's Othello really work, but it would seem the emphasis made on the look of the production has done so at the expense of good story telling and more could have been done to tell what, is in essence, a passionate and highly relevant love story.