ATN Review: Obama on my Mind at the Hen and Chickens by Teddy Hayes
Reviewed by Sophia Jackson
Published Wednesday, 25 March, 2009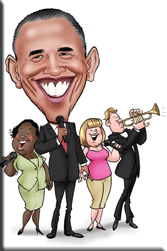 Barack Obama has been on a lot of minds since he set about running for president of the United States of America so it was no surprise that someone would seize the opportunity to capture this historical world transition on stage.
Set in the president-to-be's administration office; Obama on My Mind written by Teddy Hayes is a celebration of Barack Obama's inauguration in the form of a musical comedy. The title track is recorded by soul singer Ruby Turner.
There are 11 characters in varying degrees of absurdity that capture the demands of the comings and goings of this busy office. From mad Mary and her constant recollections of her involvement in political campaigns from years gone by to the closet racist who is really a Republican, there are plenty of personalities for the audience to contend with. Alongside, the madcap songs lyrics and basic choreography it's unclear what the production was trying to achieve.
The humour is there on occasions such as the opening dig at Sarah Palin but ultimately substance is pretty thin on the ground. Considering the praise that has been heaped on Barack Obama's administration team for their creative and inspiring campaign it seemed a shame that this wasn't touched upon in the play.
The play depicts the goings on of a busy campaign trail through song with occasionally witty lyrics from being the perfect organiser to the sensual exploration of telephonology. The fundraising manager whose nervous condition intensified as the campaign's budget got higher and more costly was well performed. Although I understand that some African-Americans felt they wouldn't vote for Obama just because he's a fellow African-American, I couldn't get my head around the song He's a Negro.
There are references to change dotted throughout the play linking in with Obama's theme and message throughout his campaign. There's no denying that this production was jumping on the Obama bandwagon but as the play hurtles along, sadly the audience are not in for the most stimulating ride.