ATN Review: Nina and Shaz, Brockley Jack
Reviewed by Sophia A Jackson
Published Tuesday, April 21, 2009

It's great when a theatre experience can successfully combine education and history with entertainment and humour and Nina and Shaz does just that. This is a play with two stories intertwined of two strong, feisty and ambitious women and their similar life experiences and dreams of making it in the music industry. One of the women is legendary singer, Nina Simone played by Wreh-asha Walton and the other Shazne played by Kyla Frye.
As well as being young, gifted and black, both characters have depth but it's obvious that the story of Nina Simone is going to be the one that we are drawn to. Although this doesn't take away the fact that both actors play their roles with gusto and credibility.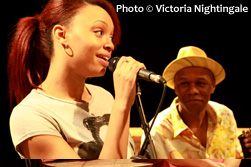 Along with the highs of following your dreams, the play also examines some of the turmoil and tribulations associated with the lows of the music industry. Themes of domestic violence, jealousy from loved ones, betrayal and insecurity are all here but it's the strength of female-to-female bonds which shines through with great ease and insight.
To top off a well written and directed piece by Laura McCluskey, this well researched piece of work offers a visual feast of great fashion from a by-gone age and the juxtaposition of classic Nina Simone tracks against today's club bangers. The script moves on fluidly and even if Nina and Shaz seemed an ambitious project at first, actually the similarities gel very well indeed.