ATN review: Baxter Theatre's Karoo Moose, Tricycle Theatre
Reviewed by Amica Anselm
Published June 22, 2009

The play Karoo Moose written and directed by Lara Foot Newton May suggest undertones of a child's story, but the powerful sequence of events unravels some of the darkest realities inflicted by man's actions and women's ignorance.
With an amphitheatre of images, and compelling scenes which are made up of simple props to replicate a remote and impoverished village in the Karoo, South Africa, a combination of beauty and sadism materialise.
In Karoo Moose a talented cast use their effervescent physicality to create an ingenious depiction of encounters in the life of a small town.  The play is crowned around a young innocent girl called Thozama, a girl who suffers violation and betrayal. An aggressive and terrifying incident and a chance encounter with an escaped moose change her life forever. Innocent child's play is used to convey dark realities of abuse; imagery is also used in order to depict explicit scenes.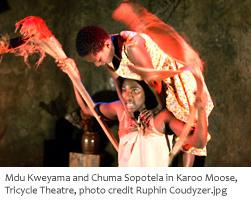 Thozama's plight is synchronised with other characters that live in the village who spontaneously use native African language in various sentences. This combination gives the play authenticity and cultural uniqueness. Individually, the characters add to the life and spirit of Thozama's fight infusing comedy and melodic sounds in African drones. The moose provides Thozama access to another world; one of, rage and her liberation.
A magical world is created. A humorous combination of gender transfers between actors and the characters they play, help to tell a tale of darkness whilst comically keeping the mood bright.