ATN Review: Josie and the Multi-Coloured Weave, Bernie Grant Arts Centre, Tottenham
Reviewed by Sophia Jackson
Published Tuesday, April 28, 2009

If there's a chance to laugh my head off, I grab it with both hands and with comedian and broadcaster Geoff Schumann as the writer of Josie and the Multi-Coloured Weave I knew I had a night of jokes ahead.
I mean the title alone is enough to get you giggling and I was pleasantly pleased with the humorous content of this play-come-pantomime. Josie and the Multi-Coloured Weave is about single-parent dad (Leo Mohammed) and his four 'charming' daughters. Josie (Natalie Best) is the hair deficient daughter who gets bullied by her other sisters (Geoff Schumann, Jason Maza and Eddie Kadi).  Josie's lack of hair is the source of much contention and the source of her sisters' relentless attacks on her self-esteem. This all changes when an angel visits their father giving the secret to changing Josie's life forever: a multi-coloured weave. Who knew that a simple weave could be so powerful? And what a weave it is. No expense was spared in the production budget because this weave is a weave like no other. I want one just like that – long, flowing and full of body.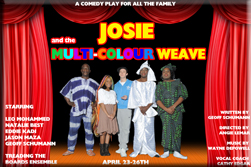 It's a well-written production although perhaps too many storylines in) one (Aladdin, Cinderella, Joseph and his Techni-Coloured Dreamcoat) and also it could have been trimmed down a little for a family audience.
I have to give the actors of this production ten out of ten because seeing Eddie Kadi and Geoff Schumann in a dress and heels as they both try and contain their laughter is a comedy moment in itself.
Josie and the Multi-Coloured Weave is directed by comedian, playwright and Afridiziak Theatre News patron, Angie Le Mar. It is part of the Tread the Boards programme at the Bernie Grant Arts Centre which engaged young people in learning about theatre.
Josie and her Multi-Coloured Weave was performed as part of Tread the Boards from 23 to 26 April, 2009.