ATN Review: Henri Oguike Dance Company 10th Anniversary at the Southbank Centre
Reviewed by Sholah Williams
Published, Monday, March 30, 2009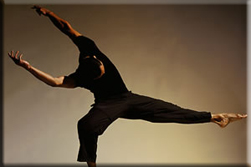 The first piece 'Front Line' known as Henri Oguike's signature piece, transports the audience to an original place. Beautifully accompanied by the Pavao String Quartet, the ever-changing temperament keeps the audience engaged. The original choreography compliments the music composed by Shostakovich.
After the short interval, the set changes and a harpsichord is rolled on stage, set against a white screen. Cue the baroque music played flawlessly by Carole Cerasi and the dancers proceed in a courtly, teasing manner. During the piece, each dancer's solo in the 'White Space' perfectly displays Oguike's diversity and the performer's charisma, as well as their immense talent and accuracy. The projector screen provided a modern feel and the harpsichord appropriately fits the choreography. The refreshing thing about 'White Space' is that there are scenes within the main piece and whilst it is short enough to hold your attention; it is long enough to display the cast's vast talent.
The third piece 'Falling', comprised of Errollyn Wallen immediately captivating the audience with her moving piano playing and sultry voice. On the screen beside her, Nuno Campos (rehearsal director) and Laura Pena Nunez, float around each other in a NASA inspired set. The live performance by Wallen, set against the digital performance is a welcome diversion which again only confirms Oguike as an eclectic artist and choreographer.
The closing piece 'Finale' is a bright, summery fusion performance. Combining Irish dancing steps and acoustic guitar melodies, as well as what seems to be Oguike's signature body percussion.
Finale is the perfect end to the carefully put together programme, that leaves the audience in awe of the dancers and singing the Henri Oguike Dance Company's highest praises.