ATN Review: Handa's Hen, Little Angel Theatre
Reviewed by Ekua Ekumah
Published, Wednesday, July 1, 2009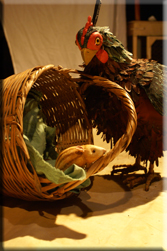 Within the quiet Passage of the Dagmar in Islington lives a little theatre where puppets come to life!  They tell stories to children from as young as two right up to adults and have been doing so since 1961. On this Sunday morn, Handa's Hen, which is based on the book by Eileen Brown, herself an Islington resident, was the tale.
Handa and her friend Akeyo have been given the important task of feeding Grandma's hen Mondi, "and all before breakfast".  The only problem is Mondi is nowhere to be found.
On their search for Grandma's hen the two friends encounter an accumulating array of animals, ranging from "two fluttery butterflies", four lizards who attach themselves to the girls clothes to the all singing and dancing seven bullfrogs splashing in the river, (my personal favourite).
Finally, when Mondi is found, we discover that she has a surprise of her own that number ten!
This delightful show, directed by Marleen Vermeulen, uses song, rhythm, fabric and clever puppets to tell their story.  In all 55 newly created puppets were used.   The children are encouraged to sit right up close on the stage so they have the wonderful opportunity to touch the puppets and beat out rhythms on the stage floor, which my four year old loved.
As if all this wasn't enough, the show was also bilingual!  We were introduced to counting to ten in Swahili!  The play opened with the two skillful performers, Charlyne Francis and Anna-Marie Nabirye, playing a great peg flipping game whilst counting to ten in Swahili.  The counting was reintroduced throughout the show as our animals increased, alternating it with English.  My daughter remembers 'Taatu" is three!
The small stage was transformed with simple washing lines, from which fabric was hung to display our animals as they were found. 
The simplicity of this 35minute show is its best asset as the children were fully engaged the whole way through and the adults like myself were impressed with the skill and technicalities used to execute this story and create the magic, which was felt by all.
We had a thoroughly wonderful morning and look forward to their next production. 
Handa's Hen is at the Little Angel Theatre until July 5, 2009.