ATN review: Genet's The Maids, Greenwich Playhouse Theatre
Reviewed by Lindsay Johns
Published June 17, 2009
.5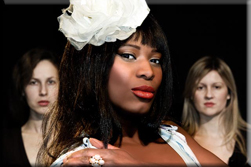 Sapphic and graphic, this production of Genet's The Maids is the theatrical equivalent of fully clothed porn. The play subtly ensnares the audience from the outset with the promise of both intellectual and carnal jouissance, and for the most part succeeds in delivering.  As one might expect from a man who at various stages of his life was a thief, a vagabond and a prostitute, Genet's ability to shock, or épater les bourgeois, has certainly not diminished with time.
Set in the boudoir of Madame's house, two sisters, Clare and Solange, both maids, plot to murder their detested employer. With wanton yet complex salaciousness, they take it in turns to play at being Madame, recording their musings, power struggles and lubricious role playing with a video camera.
Within the intricacies of the sisters' incestuous relationship, the frisson of sexual pleasure derived from submission, humiliation and degradation are all exposed and explored. Strangulation both as an act of murder and as an act of sexual pleasure also functions as a powerful and effective leitmotif.
Desire, repulsion, domination and power, and its abuse, are the predominant themes which underpin this production. Potent soliloquies, possessing some exquisite Baudelairean cadences, are skilfully delivered by all three actresses, and the small space of the theatre is undeniably electrified by Madame's arrival.
Emilija Ellen and Irena Grgona are both convincing and compelling as the maids, their French accents and wily, lithe physicality perfect for their respective parts.  Madame, played with an utterly captivating and magisterial dynamism by Claire Spence, oozes a palpable sultry sexuality. The inverted racial casting, with a black Madame and two white maids, is also a neat twist which reverses the traditional power dynamic.
Ultimately, the play explores the search for freedom from tyranny, both physical and metaphysical, which is at the core of much human behaviour, both social and sexual. With its unexpected denouement, The Maids is startling, experimental French theatre with a cutting contemporary edge, and in that deserves both our applause and support.