Foreplay, Theatre Royal Stratford East
Reviewed by Havana Blanche
Published, 17 June, 2009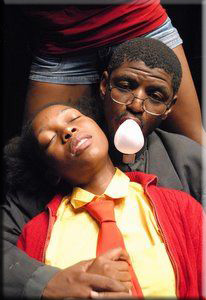 With the title of Foreplay, I expected the play to contain a lot of sex and sexual references. Knowing this play was produced by The South African State Theatre and written and directed by Mpumelelo Paul Grootboom, I expected a gritty, hard-hitting look at sex and the influence it has over the human race. I was not disappointed.
The play examines the ways sex and foreplay are used to manipulate and exploit others, through an ensemble cast that are all out to fulfil their needs and desires. The characters of a soldier, preacher, waitress, teacher, schoolgirl, politician, prostitute, thief and housewife all lead different lives which become interwoven through their sexual exploitations.
The cast feature many of the original actors from Township Stories and the set appeared to be the same as well. The set was simple and Grootboom chose to use the cast as stagehands, bringing on pieces of the set before their next scenes. However this was not as smooth as it should be, and often was so distracting and noisy that I could not hear the monologues or dialogue of other characters.
Israel Bereta balances the raw and sometimes violent sex scenes with beautiful contemporary dance moves, which allowed the sensuality of sex and foreplay to be explored.
The audience were entertained, and the comic moments went down a treat. For instance the middle aged preacher (Sello Zikalala) grooms then has sex with a young school girl (Koketso Mojela), although this situation is not funny in the slightest Grootboom manages to create humour which the audience fully appreciated. However the audience at Stratford East are known for wanting to participate and call out, this was inappropriate in this play and at times uncomfortable.
Grootboom uses a motif throughout the play of chewing gum. After each character has sex, they suddenly have chewing gum in their mouths and blow a huge bubble. This motif works as a really powerful symbol of sex, strengthened when the preacher unwraps a chewing gum seductively and places on the school girl's tongue. Or when during the last scene when a prostitute is brutally raped, it becomes disturbing to see the attacker force her to blow a bubble.
Although it lacks the subtlety found in Grootboom's previous work, the cast deliver a strong performance. This play is not for the faint hearted or those easily offended, its duration of two hours, with no interval, I found hard to bear. But anyone who may have pondered why humans place so much importance on sex should see this play as Grootboom has all the answers.