ATN review: Evidence, a dance company, Southbank Centre
Reviewed by Elvina Quaison
Published, Saturday, June 6, 2009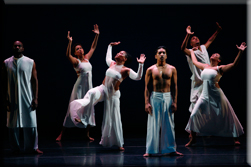 Evidence is artistically directed by Ronald K. Brown, it comprises a series of four dance pieces which each have an individual theme incorporating combinations of music, dance, imagery and spoken word, at times all four.
While ambitious this is a mechanism that is often used to great effect in other productions. However, in this case I feel, at times there was too much going on to allow the audience to be able to fully absorb all that was taking place on stage.
The dance styles were an eclectic merging of African, Caribbean and European movement layering upon each other to produce at times very exciting moments. In my opinion the most enjoyable sequence was the last, Grace; this sequence I feel got the balance completely right. The costumes complemented the dancers and added to the piece; the music reflected the eclecticism of the dance influences; Jazz, Afro beat and House, it was altogether a very strong piece.
I went to see this production with excitement, however I found it difficult to enjoy it as I felt many elements did not fit well enough together to create a truly transporting experience. This could be due to the seemingly unrelated nature of the pieces, and the lack of clarity within the pieces. This is a production with enjoyable moments but as a whole I feel there is an element missing to give the production coherent purpose and meaning.
Evidence: A Dance Company was at the Southbank Centre on 7-8 May, 2009.