ATN Review: Death and the King's Horseman by Wole Soyinka, National Theatre
Reviewed By Karla Williams
Published Wednesday, April 15, 2009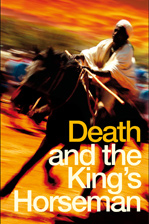 The highly prolific Nigerian playwright Wole Soyinka is a poet, author and the first African to be awarded the Nobel Prize for literature in 1986. Written in 1975 his play Death and the King's Horseman was inspired by an actual historical incident that took place in the Yoruba town of Oyo in 1946.
The Alafin (King) of Oyo has died and as decreed by Yoruba traditions, his horseman Elesin (played by Nonso Anozie) must commit ritual suicide to accompany his master into the afterlife. After 30 days of mourning the King can now be buried and as directed by the moon, tonight is the night that Elesin must carry out his duty. But when the British colonial Office Simon Pilkings and his wife Jane (played by Lucien Msamati and Jenny Jules) find out about the sacrifice they do all they can to stop it. Thus ensues a collision of cultures as both sides fight to carry out their duty.
Director Rufus Norris has crafted a superb production and the cast of over 25 contains no weak links. All the actors are black and he has decided to 'white up' the actors who play the parts of white characters. In the context of this story, it feels like they're making a mockery of the British Empire. But that said Jenny Jules and Lucien Msamati are brilliant as Mr and Mrs Pilkings with their posh upper class accents providing much of the plays humour. Also outstanding is Claire Benedict who plays the mother of the market, Iyaloja. She perfectly captures the strong, respectable and compassionate nature of the character making her incredibly endearing and warming to the audience. Nonso Anozie gives the performance you come to accept from the multi award winning actor and consistently shines as Elesin.
Set designer, Katrina Lindsay has done a truly phenomenal job with the set, which at one point make Elesin and his bride vanish from the stage. The intricate details and unique features (the actors playing furniture is ingenious) add a sense of marvel and mystery to the production but at the same time also distract you, as you stare in wonder at the beauty of it.
Death and the King's Horseman is a marvellous production; an exceptional example of British theatre at its best.
Tickets: A Travelex £10 Tickets production: almost half the seats for every performance are £10 or evenings and matinees from £10-£15
Death and the King's Horseman is at the National Theatre until 17 June.