ATN review: Breakin' Convention - The Sixth Annual International Festival of Hip Hop Dance Theatre, Sadler's Wells
Reviewed by Shaney Blackman
Published Tuesday, May 26, 2009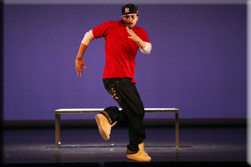 When I arrived at Sadler's Wells, the line circled the building. Staff members organised the crowd well and ensured everything ran accordingly. There was a buzz of excitement building up outside where a vast range of people congregated to attend this event. The crowd was mixed with anyone from young children with their parents, teenagers, to the mature adult were there.
Overall it was a multicultural setting. Whilst most people queued up inside of the building for the main stage to open at 6pm, there were other activities taking place, such as live aerosol art, which was brilliant, and also graffiti workshops, which was also fun and interesting to watch.
Once the main stage opened great anticipation surrounded what would ensue. I was highly impressed with every act, and can't really commit to one act I favoured most.
Like the audience there was a wide range of young and old performers, the performances included old school classic break dancing from the likes of Mr Wiggles, to modern day contemporary art forms which incorporated breaking elements. There was an innovative act that incorporated 3D animation which was very impressive.
It was great to see talented UK performers along side the US performers, as well as other European artists. Overall, I felt there was a perfect blend of variety in art forms, age range and ethnicity, which appealed to the equally diverse audience. I would say that this event was one that was appreciated by all in attendance irrespective of age and background.
Ultimately, this event was art expressed at optimum level.