ATN review: Ballet Black, Hackney Empire
Reviewed by Jennifer Rock
Published, Thursday, July 9, 2009

No set, no elaborate stage back-drop, a total blank canvass, it was just the sheer power of the dance.
Emphasis here placed on dance and movement which fused traditional ballet with strong African and Mexican tempo's. This worked as a particular favourite number of mine embodied the dance to the theme of 'boy meets girl' flavoured with a salsa twist with a rather flirtatious ingredient.
Three men and three women made up the cast of dancers who effortlessly glided across the stage thrusting their bodies into unique positions and executing 'Fouetté rond de jambe en tournant' (ballet speak for a continuous spin of your body using only one leg).
Noticing and possibly appreciating the tremendous muscle strength and agility that these performers have in pushing their bodies to the limit in pursuit of perfect posture is all part of the experience.
All dancers were allowed cameo solo's to showcase what they could do. Whether it be in pairs, alone or in groups. There is a tremendous level of trust between performers as they allow their inhibitions and fears to fade away and release themselves to the moment.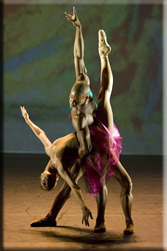 After performing at least five separate numbers, following the initial 'wow' factor we couldn't help but feel that after seeing the routines there was a bit of sameness about them. I would have enjoyed seeing ballet numbers fused together with more contemporary genres of music.
Whilst they worked well together as a group, and their cohesion meshed effortlessly, I couldn't help but feel their timing could have been slightly more co-ordinated.
Their last performance at the Royal Opera House played largely to a white audience, but their night at the Hackney Empire was made up of a more diverse crowd. This venue possibly served as a rare opportunity for people who wouldn't normally attend ballet.
Ballet Black definitely worked and the rousing applause was evidence of an evening enjoyed.