ATN Review: Bad Blood Blues, Theatre Royal Stratford East
Reviewed by Amica Anselm
Published Tuesday, April 28, 2009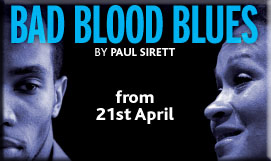 Bad Blood Blues performed at the Theatre Royal Stratford East is an unconcealed play which deals with intense, personal and sexual moral issues whilst confronting the ethics of HIV/AIDS drug trials in Africa. Paul Sirrets' powerful two-hander is a combination of intimacy and reality and communication slowly unravelled by the truths of science combined with close friendship.
The play takes you on a journey between two acquaintances whose connections leads into an advanced anecdote. The continuous liaisons between a simple administrator and a complex researcher unfurls taxing information about the poignant issue encircled with the viruses HIV/Aids, its affect on poor people and their families including a shocking, intimate element of surprise.
This play offers an insight into the vacationing world behind the treatments of HIV/AIDS, touching on personal experiences which capture the audience. The revelation of historical factors and scientific details empowers the administrator and the audience with knowledge about the disease and the Western world's system.
Serene African music plays to end one scene and introduce another with dim lighting and a simple office setting. The characters simultaneously move around in slow motion to convey the movement of time. Spotlights gloom on each character, Martina Laird and Nathaniel Martello-White continue to express their emotions which slowly draws the audience in deeper.
Their performances stand out and convert an intellectual thought-provoking play into a psychologically prevailing one. 
Please note: due to very strong language and scenes of a sexual nature Bad Blood Blues is not suitable for young children and those easily offended.
Bad Blood Blues is at Theatre Royal Stratford East until 9 May, 2009