ATN Review: b.Supreme 2009, Southtbank Centre, 10-12 April
Reviewed by Uchenna Izundu
Published, Wednesday, April 15 2009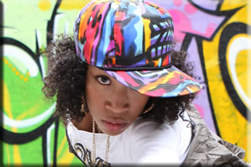 This festival has been running for the past three years at the Southbank Centre to encourage and promote UK female talent in hip hop; no batty riders, bikini tops, or salacious moves of mass distraction that pervade popular culture nowadays and disturbingly young children emulate.
One of the striking features of this festival is the diversity of the young women that perform, both in size and colour – demonstrating hip hop's universal appeal. Neither is the music limited to some of the most commercial tunes blaring from our iPods. Sin Cru's performance was haunting with the dancers' punctured screams against a rock soundtrack.
And, of course, pockets of fashion history were affectionately revived via the outfits that the different companies danced in: the 80's with the bright leggings, American baseball with the large sweatshirts, the early 90's with the caps and the swagger. The routines became slicker and better in delivery as the show progressed on the first night; synchronized shuddering and juddering, in your face and versatile street dance routines with friends and family in the audience shouting their support.
The Nu-Style battle with DJ Sarah Love was the most entertaining segment of the night with six women improvising their dances to nab the crown. Energetic and high volume, fluid and graceful dance styles battled. Two of the competitors from the audience worked hard to show they too could buss some moves. In the end, young Tolu, won the accolade due to her humorous confrontation with the other finalist 'Push It' by Salt n Pepa. In a wagging of the finger to show her how it should be done; Tolu took it back with the running man and a shimmying of the hips.
An eclectic mix of performances, battles, workshops, and spoken word, this year's celebrations brought men to the stage for the first time in striking duets with their female counterparts.
During the second evening, Kenrick 'H20' Sandy and Vickey 'Skytilz' Mantey had an impressive body-poppin' routine that bobbed and swayed to an Oriental mysticism, interjected by a rapturous appreciation from their fans in the audience. By the time I finished watching, it only emphasized that I'm not using my own body to its full potential! Sisters Cathy Nguyen and Deydey Nguyen were fabulous with large sunglasses, checked shirts, and an eerie robotic routine that appeared to defy gravity.
These women in the festival stepped with attitude and more power to them in demonstrating the funky, but feminine aspect of hip hop on their own terms.