ATN Review, As You Like It by William Shakespeare, Courtyard Theatre, Stratford-Upon-Avon
Reviewed by Karla Williams
Published, Saturday, June 6, 2009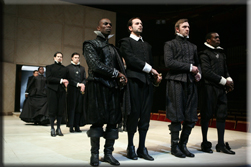 Written some time during the late 1590's As You Like It is a fairly complicated story. The Duke of Ferdinand has been forced into excile by his scheming brother Fredrick and has fled the court to live in the forest. His daughter Rosalind however has remained to keep her cousin (and Fredrick's daughter) Celia company. Orlando De Boys, who is the youngest son of Sir Rowland De Boys, has been kept in poverty by his brother Oliver and in a bid to regain his fortune he decides to wrestle at Fredrick's Court, where he see Rosalind and falls in love with her. Meanwhile, fearing that she is a threat to his rule Fredrick banishes his niece Rosalind to the forest (where her father lives with a band of merry soldiers) but refusing to be parted from her, Celia goes along for the ride. However fearing that they will be in danger travelling as two lonely women they persuade the court fool Touchstone to come alone while Rosalind dresses up as a boy named Ganymede and Celia pretends to be his sister, Aliena. Upon hearing that his life is under threat, Orlando also flees to the forest where he post love lyrics to his beloved Rosalind. And there begins a tale of unrequited love, multiple marriage and dead rabbits.
Due mainly in part to the complex storylines, the play is not one of the easiest to understand and it takes a while to grasp what's exactly going on. And as with most of Shakespeare's plays it takes a while to tune your ear into the Elizabethan dialogue, you unfortunately miss a number of key plot points that are given in the first 20 minutes which further adds to the feeling of confusion. That said, Michael Boyd has put together a wonderfully accomplished production that includes the skinning and beheading of a dead rabbit at the opening of the second half – not for the fainthearted (or vegetarians) among the audience. The direction is matched by a fine cast in particular Jonjo O'Neill as Orlando and Richard Katz, who as Touchtone provides many of the plays comic moments.
As You Like It is not one for the Shakespeare virgin but for those who can muster the concentration needed for its three hour duration and like the idea of theatre that may make you squirm, this RSC production will be right up your alley.
Cast includes: Ansu Kabia, Jonjo O'Neill, Clarence Smith and Richard Katz.
Directed by Micheal Boyd
As You Like It is at the Courtyard Theatre, Stratford-upon-Avon in repertoire from 18 April - 3 October 2009.