ATN Review: Anansi and the Magic Mirror by Geoff Aymer at Hackney Empire
Reviewed by Sophia Jackson
Published  Wednesday, 4 March, 2009

Anansi, the part man-part spider of traditional African-Caribbean folklore is back again and up to his old tricks with a magic mirror in hand. This is Talawa Theatre's second Anansi production and this time the naughty spider is played by entertainment all-rounder and Hackney Empire favourite, Kat B.
The story centres around Anansi who steals a mirror and a spell from Nana Susu's shop having tricked Adjoah, Nanu Susu's naïve daughter and apprentice played by Sophie Benjamin. Inside the mirror lurks Adjoah's mean sister, Lileth who was banished by their mother for being too evil, Anansi unleashes her through the spell and that's where the story and the obeah unfolds. And if that's not enough, Nanu Susu has been keeping a secret from innocent  Adjoah but all is revealed resulting with Adjoah and Lileth having a matrix-esque battle between good and evil and right and wrong. Anansi or 'Hanansi' if you want to say with a strong Jamaican accent even ends up double-crossing himself.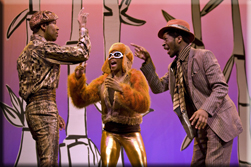 Although there is plenty of fun and games on the stage, it is a little slow in parts and perhaps too long and not fast-paced enough for younger children. However there's enough piff, paff, puff and sprinklings of magic for those a little older to be kept engaged and enthralled. Adults will appreciate the humour in Geoff Aymer's playwriting skills and he even manages to slip in a reference to Talawa (Little but Talawa). The gods of Justice, Harmony and Truth are also hilarious. Using song, story-telling and dance, the play moves along but the songs seemed a little wishy-washy in our battle to hear the lyrics above the thumping backing track.
The show, directed by Paul J Medford is almost pantomime in its feel but perhaps not as boisterous but much of the cast will be recognised from previous pantomime roles.  Kat B is joined by fellow Hackney Empire veteran, Tameka Empson as Nana Susu but there is less of the antics that we have become accustomed from these two. Marcus Powell plays a posh and well-spoken Bredda Lion who slips in a bit of patois when he's vex, with the same gusto seen in Theatre Royal Stratford East's Hansel and Gretel last year as the pantomime dame. Darren Hart's Nigerian Bredda Tiger is also a highlight especially when he dances to the African beats. Susan Lawson-Reynolds dual role as wicked sister Lilith isn't wicked enough but she shines as a cheeky Bredda Monkey.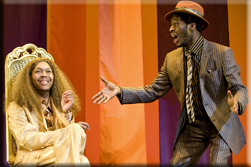 Often using cunning schemes to outsmart people, Anansi stories are centuries old originating in Ghana, West Africa and transcending to the Caribbean and the Americas as a way of teaching life lessons, morals and the difference between right and wrong.  Slaves taken from Africa introduced the tales to America where they became known as the Aunt Nancy or Br'er Rabbit stories. It is believed that Kwaku Anansi, the part human, part spider was an African God who appeared in West African mythology.
Go along and see the show to keep the African-Caribbean Anansi storytelling tradition alive as he might be centuries old but the morals are just as relevant today.
Anansi and the Magic Mirror is on at the Hackney Empire until 7 March, 2009