ATN review: A Place at the Table, Camden People's Theatre
Reviewed by Elvina Quaison
Published Tuesday, April 21, 2009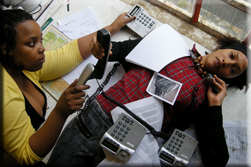 A Place at the Table is simply amazing and a touch overwhelming. This is a strong, thought provoking production that from the start makes the audience part of the performance. The play centres on a round table conference held by the UN Security Council to look at the Council's report on the 1993 coup in Burundi and the resulting genocide.
A Place at the Table differs from similar themed productions in that the story is told form the bureaucratic rather than personal standpoint. By showing the cold, clinical, detached attitude of those in the position to protect the 'world', the production raises questions regarding the effectiveness of UN agencies and what their position really is; protector of the people or protector of economic resource.
From the title to the various mechanisms utilised to convey a series of important messages, the play is bursting with symbolism which encourages the audience to reflect on what is a fact and a truth, and what and who is good or bad. It manages to force you to think beyond a monstrous period in history and reflect on current human experiences from Gaza to Brixton and locate the moments of crossover and not see them as isolated occurrences distant from our personal realities.
The cast is tight, the production, involving and no matter what you will leave this production having had a life-altering experience.
A Place at the Table is at the Camden People's Theatre from 15 April to 2 May (except Mon) at 8pm