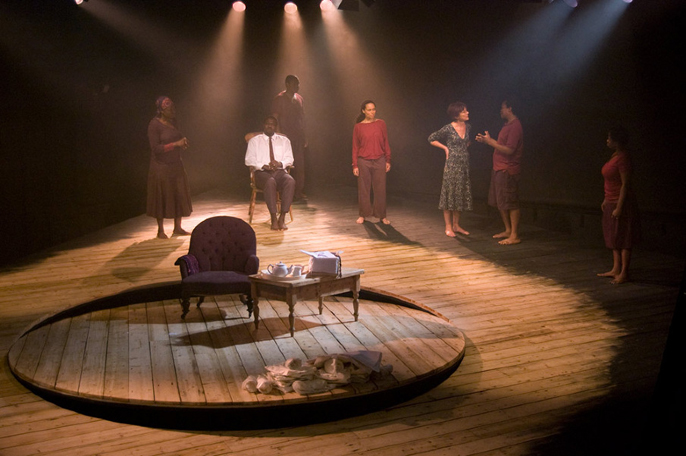 Whilst on holiday Nell Porter (Gillian Wright) met a young Zimbabwean orphan Enock (Tonderai Munyevu). She has been corresponding with him, his dedicated headmaster Boniface (Nicholas Beveny) and other members of the village ever since.
She is midway through a midlife crisis and is slowly getting inundated with letters and appeals whilst struggling to cope with the sale of her business and the loss of her marriage. Her strained relationship with her bitter daughter Georgia (Hannah Boyde) is at breaking point and she is starting to question her own motives for wanting to help the Zimbabwean community.
Set on a stunning circular stage, the voice of each person is heard though the reading of the funny and often sad letters which make the strong performances deeply moving, you can hear and feel the hope and desperation as the situation in Zimbabwe worsens.
Yours Abundantly, From Zimbabwe, written by Gillian Plowman is an emotional play, where the cast, direction and production are outstanding. Without preaching or offering solutions it reminds you how one person can make a difference and without guilt it opens your eyes to the suffering of Zimbabwe.
Yours Abundantly, From Zimbabwe at the Oval House Theatre until 18 October 08 | Box office 020 7582 7680
---
Related Links