The National Theatre's production War Horse
Published:

Sunday, August 23, 2009 7:08 AM

| Review by:

Ekua Ekumah

|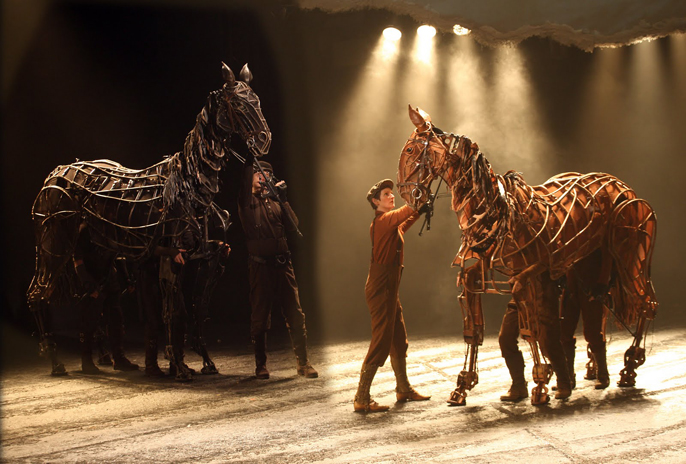 The National Theatre's production War Horse, which has made a successful transfer to the New London Theatre, is unlike anything else that I have seen this year.
A stage adaptation of the children's writer Michael Morpurgo"s book of the same name, this production shows us the effects of war on the lives of a spectrum of people from all sides of the war divide, without being biased. Morpurgo's notes explain clearly his intention.
"I was trying to write the story of the First World War, as seen through the eyes of a horse."


The horse in question is 'Joey', the name given him by his young 'owner' Albert, who acquired him after a tense battle of wills between his father Ted Narracott and his uncle Billy Narracott in a public show of status. The story follows the development of the special relationship between the young Albert and a young Joey on a Devon Farm, to Joey being sold into the British Army as a Calvary Horse, involved in very dramatic charges on the front, to his capture by the Germans to pull ambulances and guns, to his time on the French equivalent of his Devonshire Farm. Throughout this journey, the war rages on, and takes its casualties along the way but the bond between Albert and Joey is so strong that the under aged Albert signs up to join the army, on a quest to find his friend Joey.
On the surface this sounds like a typical BBC One drama over the festive season, but what is different about this show and engages the audience straight away is the involvement of the Handspring Puppet Company, who in a very unobtrusive way, bring the animals in this story to life! The puppets are so impressive and life like, with human characteristics that one soon forgets they are being manipulated.
The vast empty stage which was used as a blank canvas to depict the idyllic countryside, to the animated drawings of the of the passage of time and relationship of the boy and the horse, to the jagged, harsh and vivid images of war was a choice that invested the production with space and freedom for the puppets to take centre stage.
The story was not about whose fault it was but that through the Horse, you saw the human side of the war and that ultimately the strong bond of love prevails.
Info: War Horse is taking bookings until 12 February, 2010.