ATN Review: Up Against the Wall, The Octagon Theatre, Bolton

By
Jennifer Rock


Published, Thursday, 5 February, 2009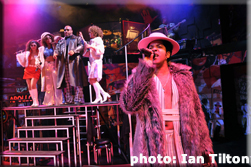 You don't have to have been born in the 1970's to appreciate what that era was about. Cue the platforms, flares, medallions, throw in a mix of funk and a little soul flavour, and there you have it, so far so seventies.
Up against the Wall is black music theatre company, Nitro's, latest production and is directed by Paulette Randall and written by Felix Cross. It tells the story of a seventies funk band known as the Emperors of Funk, comprising of two male lead singers Henry (Donovan Blackwood ) and Courtenay (AJ Lewis) and three backing singers. The group have been trying to make it big in the industry for almost 30 years, until backing singer Claudette, decides to leave and is replaced by new girl Gloria (Ann-Marie Roberts) on both counts, who brings a new lease of life to the band.
An opportunity to play at the funk-fest quickly arises, a once in a lifetime opportunity to open for Earth Wind and Fire, but unexpectedly it's the girls whose dreams are soon to be made a reality when they are offered the opportunity to become an all-girl group to be known as the Empresses of funk, possibly launching them into instant stardom.
It's tricky because Gloria and Henry are now in a relationship, so will they shatter the dynamics of the band by abandoning ship in pursuit of the dream?
The performance takes place at the Octagon theatre in Bolton Manchester, and  after making the journey up from London, had we known it was 'Funky Fancy-dress Friday's', we too would have donned our afro's and flares to get into the party spirit and soak up the seventies vibe.
There was no under-estimating the singing power and strength of the performers whose voices echoed around the auditorium as they belted out some memorable numbers from Chaka Khan's I'm Every Woman,  to Teddy Pendergrass's The Whole World's Laughing at Me and Earth, Wind and Fire's Boogie Wonderland.
Though not a lot of dialogue, it was questionable enough to wonder why with so many numbers in the show, the backing singers Jenai (Shelley Williams) and Leshai (Danielle Henry) only got to share the lead in one song. It was enough that they only spoke in the cliché's of song titles.
But the real stars of the show were the five piece band. It was a treat to have a live band play, this possibly making up for a pretty basic story-line though easy enough to follow.
The set design was impressive with a good use of a rounded stage for great audience views with circular stairs making for dramatic and noticeable entrances and exits. Be prepared for a lot of clapping as you rewind a few decades and relive those classic hits.
Up Against the Wall is at the Octagon Theatre, Bolton until 28 February, 2009