Twelfth Night, RSC The Courtyard Theatre
Published:

Monday, October 26, 2009 9:39AM

| Review by:

Elizabeth Odogwu

|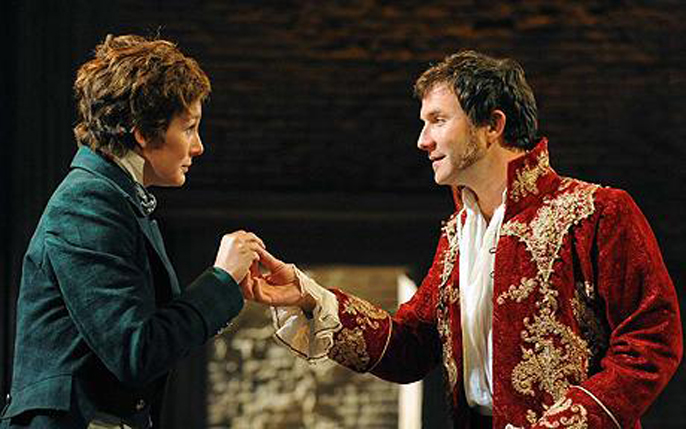 Gregory Doran's interpretation of William Shakespeare's Twelfth Night makes for an all at once captivating, affecting, humorous and highly entertaining production. As one of Shakespeare's most enthralling plays the themes of love, loss and the uncertainty of gender reside at the heart of the action.
Transporting the setting to an opulent corner of The Middle East in the nineteenth century a young girl, Viola is shipwrecked and finds herself in the foreign land of Illyria. Believing her twin brother Sebastian to have drowned at sea Viola decides to disguise herself as a man she names Cesario and seeks work in the court of Duke Orsino in her twin brother's image. With the Duke pining for the love of the wealthy Countess Olivia he enlists Cesario to assist in his attempts to woo her. A complicated love triangle then ensues as Viola falls in love with Duke Orsino and Countess Olivia falls hopelessly for the young stranger Cesario.
Gregory Doran's production depicts the drama within Shakespeare's text as compellingly as it does the comedy. Better known for his turn as Victor Meldrew in the BBC's One foot in The Grave, in his debut season for the Royal Shakespeare Company Richard Wilson's Malvolio is a tangibly tormented and broken character by the end of the play and evokes a genuine sense of melancholy throughout his final scenes on stage. Accentuated by the actor's distinctive vocal capabilities Wilson's emphasis on vowel sounds and frigid physicality give depth to his portrayal of the ill-fated steward to the Countess. With stand out comedic performances from James Fleet (Sir Andrew Aguecheek) and Richard McCabe (Sir Toby Belch), the scene which sees the two men and an accomplice lie in wait in a box tree to spy on an unsuspecting Malvolio works to much uproarious effect. Alexandra Gilbreath as Olivia is superb and floats effortlessly from a woman in mourning to the semblance of a love struck teen and delivers each line through a voice enriched with intensity and a tonal quality that matches the character magnificently.
Twelfth Night is a well cast and enjoyable production from the Royal Shakespeare Company with enough humour, drama and well placed frivolity to please the majority.
Info: Twelfth Night runs at The Courtyard Theatre, Stratford-Upon-Avon until 21 November and then The Duke of York's Theatre, London 19 December – 27 February 2010.