Thriller Live at the Lyric, Shaftesbury Avenue
Published:

Wednesday, 21 January, 2009

| Review by:

Sophia Jackson

|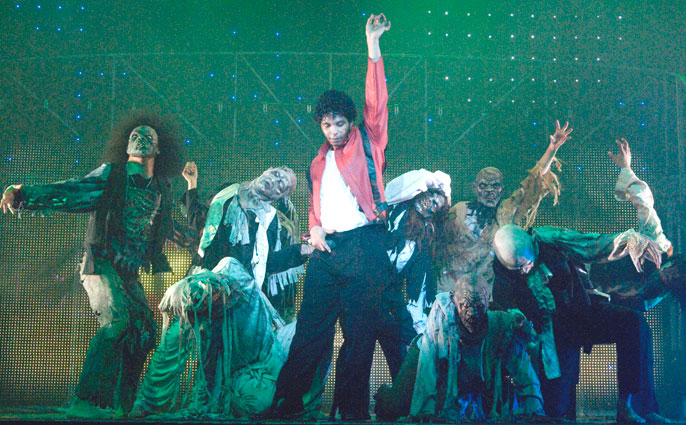 Michael Jackson's biggest fan, Adrian Grant, makes his West End debut with Thriller Live, a show that first came to London in 1997 for one night only. Grant used to put on an annual celebration of Michael Jackson at the Hammersmith Palais, which he started doing in 1991.

The two hour show which has already toured Europe and parts of the UK is a greatest hits concert featuring six Michael Jackson's including a white man (Ben Foster), and a woman (Denise Pearson) and the young MJ played by Keiran Alleyne.

Denise Pearson of Five Star fame, who actually looks a little bit like present-day MJ, steals the show with her vocals and the passion that she puts into every performance.

The set includes random facts and figures thrown into the mix such as Thriller still being the world's best selling recording of all time. The show's not just for fans of the white-gloved one as you'd be hard-pressed to sit there and not tap your feet through the King of Pop's huge catalogue of hits. At the end of the performance almost everyone was on their feet, shaking a leg and doing their own 'he he's' and high-pitched 'oh's. Don't be expecting a big budget, glitzy set because it's not there but what you do have is a party vibe in a theatre setting.

What's also missing is a storyline. Perhaps this is because outside of his singing, Michael Jackson's personal life might not make the most enjoyable and entertaining experience. So instead the audience has to focus on all that's great about Michael, his creative musical genius as a singer, songwriter, dancer and entertainer.

The production's order comes from singing and dancing its way through Michael's musical achievements from the Jackson Five's entrance into the music world with ABC and Ben, songs that take you back into time through to MJ's solo effects from albums including Off the Wall, Dangerous, Bad and of course, Thriller.

Although it sometimes comes across as a fancy tribute night, standout performances were Ben, Alleyne's vocals mirrored Jackos' to a tee and Blame it on the Boogie for its outstanding choreography. The beauty of this show is that the choreography is on point and even Michael Jackson would be proud of those Moonwalking steps.

Thriller Live is booking until 3 Mar, 2013 and is showing Tuesday – Saturday 8.00pm Sunday at 7.30pm with matinees on Saturday at 4.00pm and Sunday at 3.30pm.
---
Related links