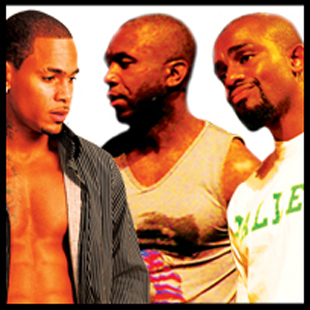 The Brothers tells the journey of three male friends Ritchie, Kenny and Michael (played by Chucky Venice, Jason Barrett and ex-So Solid's Harvey respectively) whose friendship is tested as they clash over women, fight for access to their children and explore past, present and future relationships.
The play rings through as an accurate portrayal of what it is to be a black male living in twenty-first century Britain. Angie Le Mar captures the male perspective cleverly and creatively with scenes depicting real life situations that the black community could easily identify with and this familiarity provided the main source of the play's humour and seriousness. Michelle Gayle in particular as Ritchie's ex-partner Brenda brought a huge comedy element as the 'wronged wife' turned single mother.
Hackney Empire needs no introductions, the stars came out in full force to support the show. Amongst those spotted include Mobo founder, Kanya King, acting stalwart, Rudolph Walker OBE. A lot of raucous laughter and applause proved that the audience enjoy it. But in case you missed it, don't worry; you can still watch out for it as it was filmed, courtesy of MTV Base.