The Ones that Flutter, Theatre503
Published:

Wednesday, October 5, 2009 8:09 AM

| Review by:

Karla Williams

|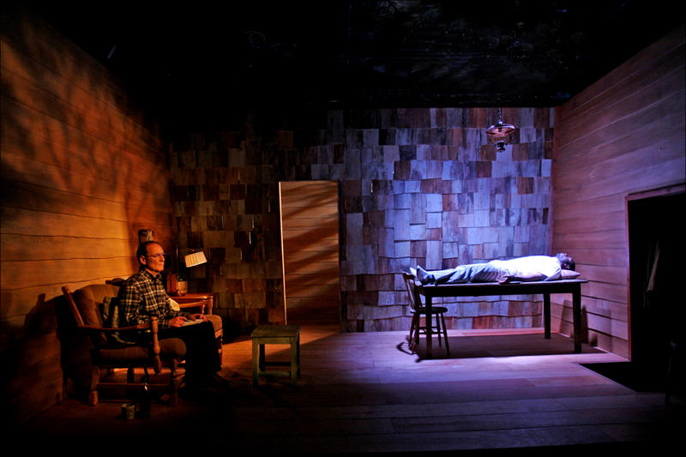 Set in a small American town, The Ones That Flutter tells the story of Ruddy (Feast) a retired Death Row prison warden, living alone with only his dog to keep him company. Haunted by the memories of a father who was always too hard and a brother he could never live up to, he spends most of his days with Hunter (Campbell) the mysterious African-American who seems to always be present. His only other visitors are Rachel (Clifford) the estate agent who's keen for him to sell his home to developers and Julie Ray (Brealey) his estranged step-daughter who was fathered by his brother Ray.
Sylvia Reed's unique and well written drama is a moving depiction of family and the crippling effects memories and parental expectation can have on a man's life. As a child, Ruddy, played brilliantly by Coopersmith, was forced to help his alcoholic father hunt doves and assigned the task of killing the ones his father missed or 'the ones that flutter'; a duty he disliked doing but felt he had no choice. This, in turn has lead him to the job of prison warden and in particular assisting with the execution of inmates – the last of which was Hunters. But his role as passive middle man has also had an effect on his family, specifically when his wife was involved in an accident that his daughter feels he could have prevented if only he had done something.
The play features a stellar cast, in particular Michael Feast is outstanding as both Ruddy and his father while Richie Campbell adds layers and empathy to Hunter that truly moves the audience and you feel a compassion for the man whose crime we are never made aware of.
Running at just over an hour The Ones That Flutter is a thought provoking and engaging play that raises questions not just about capital punishment, but the life changing effects it can have on the ones who have to administer it.
The Ones that Flutter is by Sylvia Reed and directed by Abbey Wright and the cast is Michael Feast, Richie Campbell, Pandora Clifford, Oliver Coopersmith and Louise Brealey
---
Related links
The One's that Flutter is at Theatre503 until October 10, 2009
ATN interview with Richie Campbell by Karla Williams