The Mysteries – Yiimimangaliso,
The Garrick Theatre
Published:

Sunday, September 20, 2009 6:58 AM

| Review by:

Sophia Jackson

|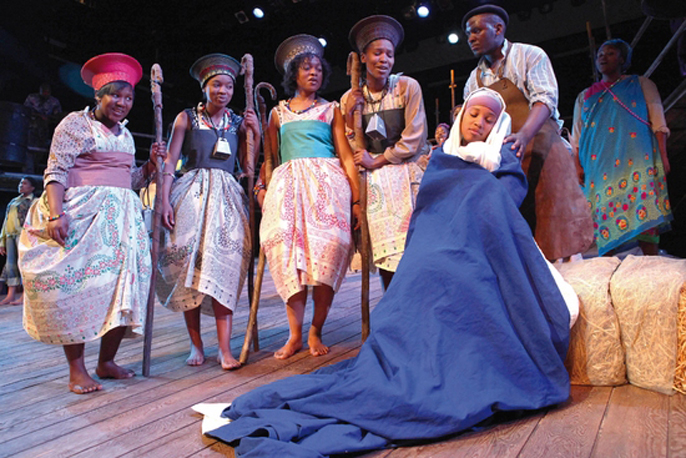 Expectations were high for the arrival of South African production company, Isango Portobello's return to London shores. Their previous plays, Olivier Award-winning The Magic Flute – Impene Yomlingo and A Christmas Carol - Ikrismas Kherol were received with rapturous acclaim. And this time their feat is adding their trademark distinct South African flavour in the telling of the greatest story ever told – The Mysteries.
Based on a series of Bible stories, The Mysteries (taken from the French word 'mystere' – meaning craft) is an outstanding theatrical masterpiece that can be enjoyed by all – religious or not.
And that's the beauty of it. It's almost as if the odds are stacked against this production with its heavy religious content and the fact that it's told in English and many other languages including Afrikaans and Zulu. This shouldn't put you off; however, these are the qualities that make it such a magical and enchanting experience.
It's impossible not to be engaged and absorbed in the retelling of many of the most obvious and less obvious Bible stories, led by God, played by opera singer, Pauline Malefane. She commands the stage with Godly authority and grace and the audience are captured as she spreads the good word and passes on the teachings of the bible.
But, the success of this production isn't merely just down to Malefane's excellent portrayal of Jesus and God but all the actors combined who bring energy and enthusiasm to every scene. Whether the cast are singing, playing instruments or story-telling, every performance serves one purpose – to entertain the audience.
Entertaining in the sense that amidst the seriousness of the Bible, the stories are told in a way that will make you laugh but ultimately understand what God was trying to do.
The Mysteries is a play that stands out for all the right reasons and there is no reason for you to miss this show.