The Mountaintop, Trafalgar Studios
Published:

Wednesday, July 29, 2009 16:45

| Review by:

Elvina Quaison

|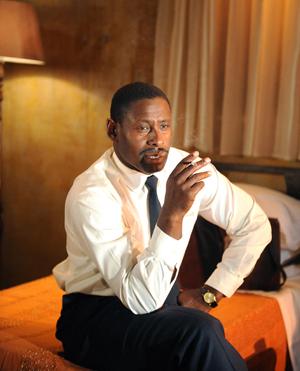 Wow
The houselights went down. The stage lights went up and so began one of the most enjoyable theatre experiences I have had for a long time. Katori Hall took a figure that has become something of a super human being and reminded us all that at the core we are all human.

At moments I was uncomfortable with his 'humanness' but perhaps that was the point, a great person is generally not a perfect person, and with this realisation I began to understand what it might have been like to be him and what it really means and takes to be a great person. King was 'just a man' who did great things thus paving the way for all of us who are 'just human' to do and be more.

David Harewood was excellent as King bringing the man out of the icon and showing us his strengths, weaknesses and the deep grained faith and belief he had in his God and Civil Rights. I was worried at the beginning when I heard the opening line spoken in a Southern accent with the signature croak and melodic voice of King. Would Harewood be able to maintain, will it become a strange mixture of Anglo-southern weirdness. This did not occur and his strong moving portrayal of King was complete and believable.

An actress I was unfamiliar with but will definitely keep an eye out for was Lorraine Burroughs, phenomenal. I fell in love with her and I'm sure the rest of the audience did too. She captured the essence of the character and made this foul-mouthed, flirtatious, funny maid into someone you wish you knew or who you could at least get to spend the evening with having a conversation.

I would recommend that you take an evening settle down and listen to a very interesting exchange taking place at the Trafalgar Studios on the mountaintop.
---
Related Links
The Mountaintop is at Trafalgar Studios until 5 September, 2009
The Mountaintop at Theatre 503 reviewed by Sophia A Jackson
Theatre 503's The Mountaintop Transfers to the West End for a Limited Run