The Great Extension
Published:

Monday, October 26, 2009 9:08 PM

| Review by:

Donna McBain

|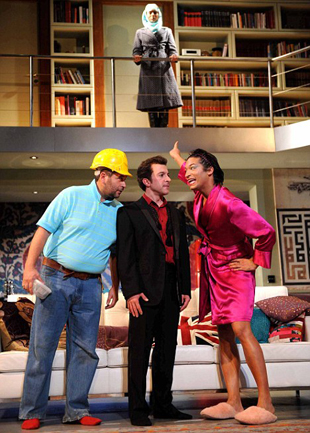 Entertainingly, the story is told from the chic London home of a third generation Turk called Hassan, (played by the writer Cosh Omar himself, a Turkish-Cypriot) who lives an eccentric bachelor lifestyle, regularly sleeping with different women who include his transgender housekeeper, the character Sanjay (Raj Ghatak).
But Hassan's ultimate mistake is drinking himself into a marriage one night, which he is cleverly able to forget, suffering from "self imposed amnesia".
However, he is forced to relive the past and indeed enter another world of relationships when paid several surprise visits the following day. Hassan's care free life and attitude towards women, sex and marriage unexpectedly come into play with the strict rules of religion, demanding a more serious outlook towards the future.
Upon realising that he has overstepped the mark this time, Hassan wants to hide behind closed doors in shame and denial, except his less than forgiving visitors won't let him. He must confront his fears and deal with the deeper consequences.
There is a strong line up of ethnically diverse and outspoken characters including a family of Pakistani Muslims from Leeds, and the bigot and racist Englishman, Mr Brown, making viewing highly spectacular and amusing.
The audience witness scenes of tension and confusion exploding into physical violence, and there are times when you get the feeling that you have stepped into a war zone with the clashes of different personalities and viewpoints being expressed all under one roof.
It is an effortless attempt by Cosh Omar to address the prejudices held by members within British society. Though some of the most offensive jibes about religion and race make you feel uncomfortable at times, knowing that there is a darker side behind the humour.
All in all there are some exceptional performances from the cast who can be forgiven for their memorable acts in this delightful and thought provoking comedy, which is at best saucy and culturally explicit.
Info: The Great Extension is at Theatre Royal Statford East from 16 October until 14 November at 7.30pm.