The Container, Young Vic
Published:

Monday, July 20, 2009 12:33 PM

| Review by:

Karla Williams

|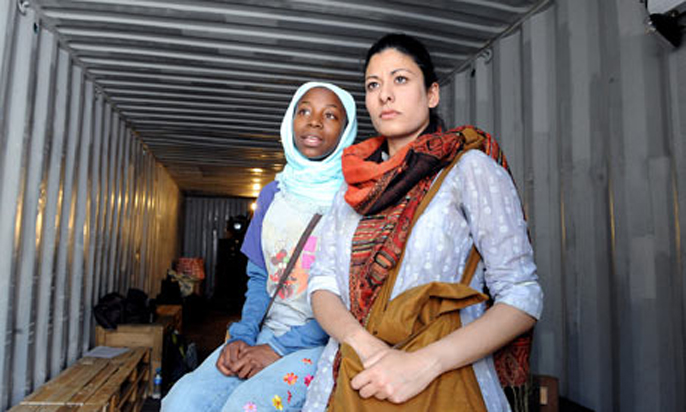 Clare Bayley's award-winning play tells the remarkably affecting and personal story of five refugees who all share a common goal – to reach England. Somali, Fatima (Blackstock) and her 15-year-old daughter Asha (Ojelade) have spent years in a refugee camp so when the opportunity to flee to England comes her way - she grabs it with both hands. Jemal (Galeya) is a Turkish Kurd who, being born in London, has a girlfriend and baby waiting for him – he has to get back to them. Ahmed (Shapi) is an Afghani business man who seeks a better life for himself and his children while teacher Mariam (Agar), also from Afghanistan, fears for her life because she refuses to obey the laws that state girls cannot be educated.
The entire play, directed by Tom Wright, is set and performed in a 40-foot iron box and having never been a fan of the dark I became somewhat apprehensive when the doors of this large shipment container were slowly closed, then locked behind me. The only light is the torches the actors use and the 28 person audience are required to sit on small boxes lined up along the sides. This somewhat uncomfortable and unnerving setting is perfect as the play magnificently plunged you into the world of fear, despair and hope faced by thousands of people as they risk all they have in search of a better life. These 'asylum seekers' become real people, with real fears and real feelings that you immediately empathise with and care about.
The cast all perform amazingly, but in particular Doreene Blackstock is outstanding as Fatima, who while you sympathise with, aren't quite sure you can trust. Mercy Ojelade is also brilliant as the naive and hopeful Asha who believes she will get a job working for the queen and Amber Agar shines as the caring yet determined Mariam who befriends her.
The Container is a uniquely, atmospheric and fascinating piece of must see theatre - book your ticket now.
The Container by Clare Bayley is at the Young Vic until July 30, 2009.
Cast: Amber Agar, Doreene Blackstock, Abhin Galeya, Mercy Ojelade, Hassani Shapi and Chris Spyrides