The Black Album, Cottesloe Theatre
Published:

Friday, July 24, 2009 6:09 AM

| Review by:

Sophia A Jackson

|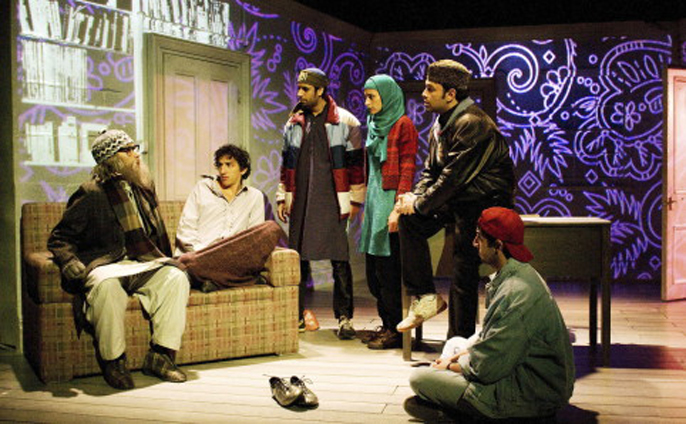 Hanif Kureishi's latest page to stage adaptation, The Black Album is sadly a case of don't believe the hype. Originally an acclaimed book by the author of My Beautiful Launderette and the The Buddha of Suburbia, The Black Album has all the intentions of a great play but it moves way to fast and is drowning with too much activity especially if you haven't read the book. Directed by Jatinder Verma, this National Theatre and Tara Arts productions is a story of the rise of British Muslim fundamentalism under Thatcher's rule.
Set in 1989, the year of fatwa, the plot centres around the main character, Shahid (Jonathan Bonnic). Fresh from Kent, Shahid arrives in London full of enthusiasm and naivety as a student with a passion for Prince and desire to write. He and his lecturer, Deedee Osgood (Tanya Franks), share a passion for pint-sized singer, Prince, and fall in love and lust, seemingly overnight.
Amidst the love-affair there are various sub-plots the audience have to grapple with against a back drop of special effects and an acid-house backdrop. Shahid's purple clad brother, Chilli, who embraces all things Thatcher causes havoc whenever he knocks on Shahid's door, having left his wife for the high life. Then there's the group of Muslim radicals, with Riaz al Hussain (Alexander Andreou) at the helm, there trying to keep Shahid on the straight and religious narrow. One of the few stand-out moments is the burning of a Salman Rushdie book. Although, not the greatest production of the year, it does have its funny moments.
The Black Album is at the Cottesloe Theatre until 7 October, 2009 and will also go on a UK tour:
West Yorkshire Playhouse, Leeds (w/c 20 October),
Liverpool Playhouse (w/c 27 October)
Oxford Playhouse (w/c 10 November)
Warwick Arts Centre (w/c 17 November)
Bath Theatre Royal (w/c 23 November)

For more details, please visit: www.tara-arts.com