Slaves, Theatre503
Published:

Tuesday, February 2, 2010 9:05 AM

| Review by:

Semper Azeez-Harris

|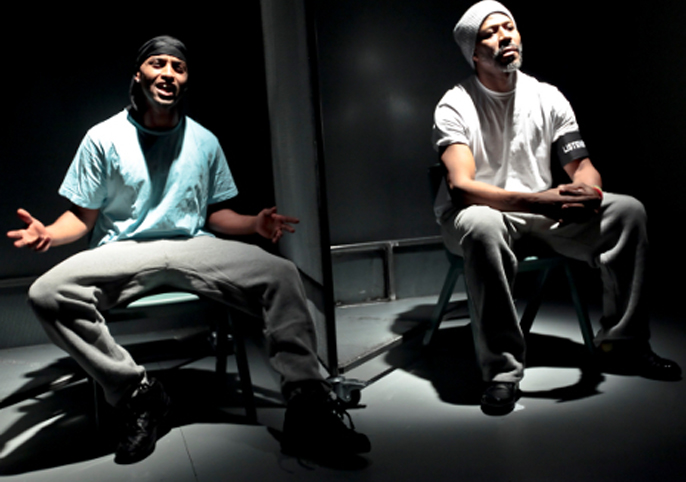 Slaves is the first full length play by Rex Obano and it does what all good plays do which is for that moment in time it take you into a different world.
Slaves is at heart an exploration of the institution that is prison through the life of Chris Jackson (Adetomiwa Edun) - a new but dynamic prison warder. Unfortunately for Chris, prison work, as White (Paul Bentall) an institutionalised prison warder states has a bad habit of crossing over the walls of the prison into the prison warders' personal life.
For Chris that takes the form of Jenks (Beru Tessema) a troubled and desperate prisoner and former school mate whose influence outside the prison walls means that his pregnant girlfriend (Scarlett Johnson) is at risk. His belief that he can help Jenks despite the fact that he is holding him to ransom causes Chris to take on the prison institution in the shape of the superficially charming and certainly menacing Rooney (David Burt).
Slaves is an intoxicating piece of theatre. Rex writes a script full of verve and humour. A conversation between the immediately intimidating Reuben (Cornell S. John) and Con (Owen Oakeshott) is side splitting as they talk about a woman having an orgasm and Parkinson's, it works trust me.
Whilst Rex constructs humorous scenes, the real power comes in the intense and character opening moments exacerbated by the close proximity of the audience to the stage. It's hard to fully dislike or indeed like many of the characters which is a measure of the actors.
What you do is witness a clear working chemistry between the actors that creates a play that is vibrant and occasionally disturbing. Go, watch and enjoy.
---
Related links
Slaves is at Theatre503 until February 20, 2010.