Ruined, Almeida Theatre
Published:

Tuesday, April 27, 2010 13:30

| Review by:

Uchenna Izundu

|

For two young women, Salima and Sophie, it is safer to live in Mama Nadi's shack tin whorehouse in the Democratic Republic of Congo (DRC) than to be within the thick of your own family in the village where the army and rebels rape women like they are overdosing on playtime.
This damning indictment is the central theme to the powerful Pultizer winning play by Lynn Nottage who interviewed female survivors from the DRC to highlight the impact of the war on them. The conflict over the control of minerals used in our phones, iPods, and digital cameras is behind 1600 women being raped every week, according to the UN Office of Humanitarian Affairs. Nottage writes: "Rape was being used as a weapon to punish and destroy communities. In listening to their narratives I came to terms with the extent to which their bodies had become battlefields."
For some, such as Sophie, played by a charming Pippa Bennett-Warner, the effects are so excruciating, she cannot even serve as a prostitute in Mama Nadi's. She has been raped so many times with a bayonet – she is effectively ruined, in constant pain, and the only duties she can carry out are to sing and pour drinks for the patrons. Josephine (Kehinde Fadipe), the veteran prostitute, distances herself in her dancing rage, insisting that her father was a chief, and that her regular customer, a white businessman Mr Harari will take her away to the city. Other women like Salima, hauntingly depicted by Michelle Asante, forge on with life in this new set up and struggle to forget the memories of their families. But this is impossible to do when saddled with a pregnancy from gang rape and a husband, Fortune, who is desperate to reconcile even though he blamed her for that outcome.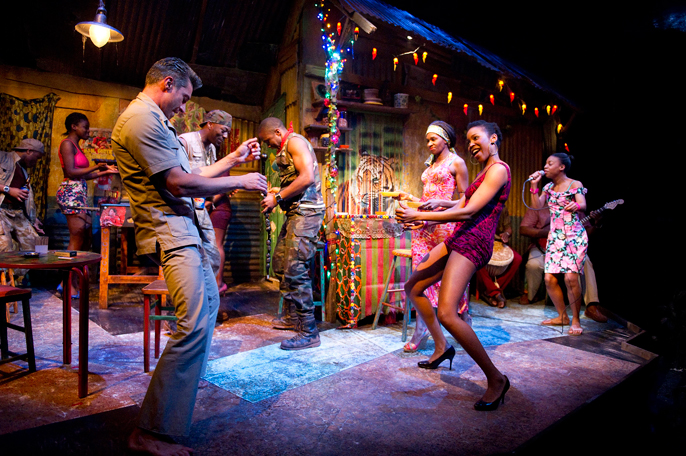 Designer Robert Jones has created a fabulous revolving set which is rain swept, dense, and gaudy with injections of birdsong. This hovel is escapism from the chaotic war in the bush with its own peculiar etiquette: here guns must be dropped outside, hands washed, and money shown first before entering.
Inspired by Brecht's Mother Courage, Mama Nadi is played by Jenny Jules as steely, enterprising, and cunning whose focus is her earnings from the bar-cum-brothel. Fleeting from the rebels to the army who prey upon the girls as if it's their entitlement she can glean information for trade-offs, but her motto for surviving the conflict means remaining neutral. The war, which has lasted over a decade, has led to millions of deaths and the displacement of at least 1.4 million people. However, Mama Nadi cannot escape choosing sides when Sophie's reluctance to flirt with Commander Osembenga, leader of the army, threatens all of their lives.
There are pockets where the writing is platitudinous - focusing on reportage rather than revelatory description, and the complexity of the war is severely diluted. Nottage does weave comedy into the piece and glimmers of hope in the horrors of humanity through the blossoming relationship between Mama Nadi and Christian, the poetic salesman who brought both Sophie and Salima to her. Ruined is chilling in showing the level of women's endurance when their bodies become war zones.
---
Related links
Ruined is at the Almeida Theatre from 15 April to 5 June, 2010.