Romeo and Juliet, Docklands
Published:

Thursday, February 5, 2009 6:42 PM

| Review by:

Sholah Williams

|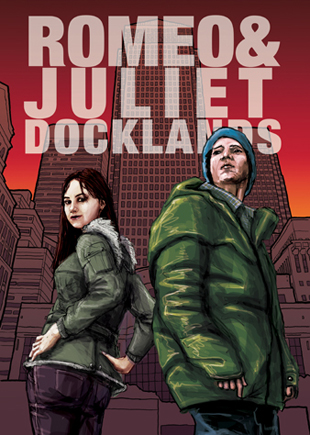 As I entered The Space, I was struck by the twinkling (what seemed light Christmas lights) ceiling, giving the effect of a blanket of stars; an appropriate setting for Romeo and Juliet, even if it is supposed to be 'urbanized'.
On the stage, a window pane surrounded by a wall covered in old newspapers is the backdrop for the production. Cue the flashing lights, drum 'n' bass, and hoodie clad youths. They prance around on stage, and mug a city commuter in a bid to transport the audience into current society.
We are then introduced to Romeo, played by Alec Parkinson whose appearance in a trainers and a headband reiterates the 'urban' spin. Shortly afterwards, Juliet's mother, Law Ballard, successfully portrays the distant relationship she has with her daughter, as she continues to put pressure on Juliet to wed. Coincidentally, the 'star crossed lovers' meet soon afterwards at a wild teenage party, however the supposed passion between the two is unconvincing by both performers. Though out of the two, Romeo is slightly more sincere, as Joanne Gale's portrayal as a hormonal, teenage girl is not believable.
Undeterred by their family disputes, the two lovers get married, however all hell breaks loose afterwards. Romeo's friend Mercutio, played by Gus Wight, is killed by Juliet's cousin, in what is a poor performance of anguish by Parkinson. Wight is no better, mistaking shouting for passion. The acting continues in this fashion leaving the audience no other option but to switch off until the end.
Overall I didn't feel the play was a true reflection of modern day living, or sufficiently highlighted the plight of some young lovers. The actors came across as amateur and lacked conviction. Maybe an original script would have been better suited to what seemed like an inexperienced cast.