Real Deal Comedy Jam
Published:

Monday, April 26, 2010 19:27

| Review by:

Donna McBain

|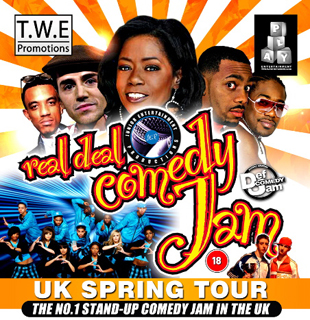 There are few comedy shows that deserve a standing ovation, but this one does for keeping its audience in stitches of laughter, from start to finish. In fact, I would be lying if I said that I didn't want to see it again, to experience the same emotions of excitement and anticipation, when the talented comedians take to the stage.
Not being a fan of stand up comedy myself, I wanted to find out the hype behind the Real Deal Comedy Jam, which is being hosted at various locations around the UK this month. And after just ten minutes into the show, I found the answers I had been looking for.
It's not everyday that you are graced with the likes of Richard Blackwood and Glenda Jaxson on stage, not to mention the new kid on the block 'Littleman', providing the freshest stand up comedy, is it? The line up is pure genius to say the least.
Playing host for the night is entertainer Kat B, who spoon feeds his spectators with enough jokes, until he is ready and willing to be upstaged by the comedians. But even so, each act is unique and in a league of its own, taking black comedy to new heights.
While Kat manages to exert his fun and energy by physically involving the audience, the comedians do it through anecdotes, recapturing moments of their childhood and past experiences with ex partners, friends and family members, which viewers can't help but relate to, no matter how shocking and embarrassing these may be.
Blackwood by far delivered the best performance in the second half of the show, proving he was still one of the best British black comedians on the scene. He displayed experience and a true flair for the game, living up to all expectations.
Without any doubt, the tour is guaranteed to make a massive impact, and raise the profiles of some of our finest black entertainers in the industry.
---
Related links
Afridiziak Theatre News interview with Kat