review: random by Debbie Tucker Green, Elephant and Castle Shopping Centre
Published:

Sunday, March 14, 2010 9:24 AM

| Review by:

Semper Azeez-Harris

|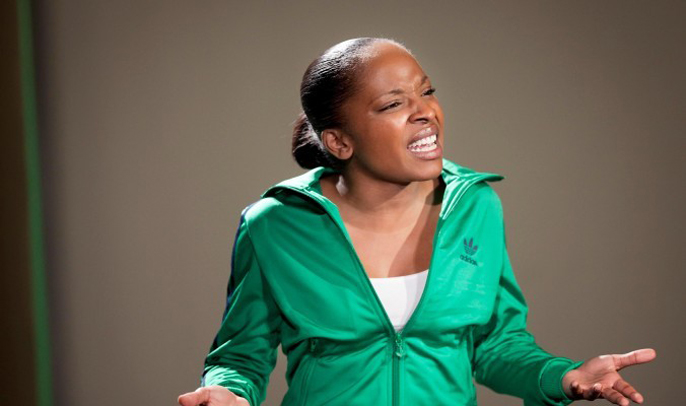 I can sincerely say that after watching Random I felt like a big fat ginger cat licking his lips after getting a portion of, heart failure inducing, thick, full fat cream.
Random perfectly resists the notion that theatre needs to be complicated to be good; the arithmetic, one actress, Seroca Davis, plus great writing by Debbie Tucker Green equals a thundering good play.
Debbie Tucker Green (Dirty Butterflies) takes the somewhat flogged issue of the youth and violence and cleverly and importantly looks at it from the perspective of the family. Consequently you do not feel you are watching some formulaic excuse to portray the youth as an angry violent section of the community, on the contrary, everything about the play screams fresh and different.
It is not a glorification or even an attempt to explore the issues regarding youth and violence. No, this is a play about a normal African-Caribbean family with the "special room for guests" that suddenly has to face this reality. With colourful and detailed writing this family comes alive. The prose feels like the poetry of a spoken word artist and the acting is great.
From the moment the diminutive Seroca Davis enters the floor, you are hypnotised by a powerful performance. She takes to the floor for a 50 minute monologue, a feat only equalled by the fact that she plays all the characters. From the feisty sister, to the monosyllabic father, she seamlessly flits into each character with authenticity. Not for a second do you question her performance as she engages with humour, tears, on point observations and a powerful gaze. By the end of the play, Seroca had been transformed from diminutive to positively gigantic.
I am not going to recommend that you watch this play; I insist that you watch this play.
---
Related links
random is at Elephant and Castle shopping centre from 5- 27 March 2010
random is on tour from 1 – 26 June, 2010