Once on this Island, Hackney Empire
Published:

Wednesday, 5 August, 2009 8:34 AM

| Review by:

Karla Williams

|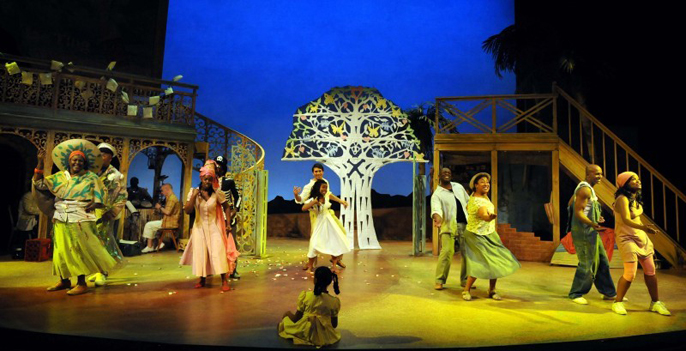 Once on this Island tells the story of orphan Ti Moune (Amos); a lowly peasant girl whose life was saved by the gods when she was a child. Ti Moune has always believed she was speared for a reason and that she's destined for greater things than that of a simply peasant girl. However she resides on an island where the darker-skinned poor people live on one side and the lighter-skinned rich people live on the other. But when Daniel Beauxhomme (Perrey) – the wealthy son of the islands ruler, has a car accident and ends up on her side of the island, she nurses him back to health and soon falls in love. Then Papa Ge (the demon of death) threatens to take his life and she makes deal to spear his life in place or hers. But when Daniel is taken back to his side of the island, Ti Moune follows him - however things don't work out exactly as she'd hoped.
The musical, directed by Susie McKenna, shares much of its plot with Hans Christian Andersen's The Little Mermaid and Shakespeare's Romeo and Juliet, although it lacks the depth and appeal of either of these stories. While the production is choreographed well – in particular the car crash scene during the And the Gods heard her Pray number – it does take a while to get into the story and the second half is without question, much more entertaining than the first.
The actors all perform well, however they were never really given anything substantial to get their teeth into and the production could benefit from a touch more dialogue to expand on the plot in between the many songs. That said, Shyko Amos as the adult Ti Moune did give one of the most memorable performances but even she was rightly upstaged by the adorable, 9 year old Tranae Richards as little Ti Moune.
Once on this Island doesn't bring or do anything that hasn't already been done before and hopes of this being the next The Big Life, were short lived. However it does make for an enjoyable night out and the closing number, Why We Tell The Story, is catchy enough that you'll be happily humming it on the tube ride home.
Cast includes: Sharon D Clarke, Yaa, Shyko Amos, Wayne Perrey, and Tranae Richards
---
Related links
Once on this Island is at the Hackney Empire until 16 August, 2009
ATN interview with Sharon D Clarke