review: Off the Endz, Royal Court
Published:

Thursday, February 25, 2010 1:45PM

| Review by:

Nicke Adebowale

|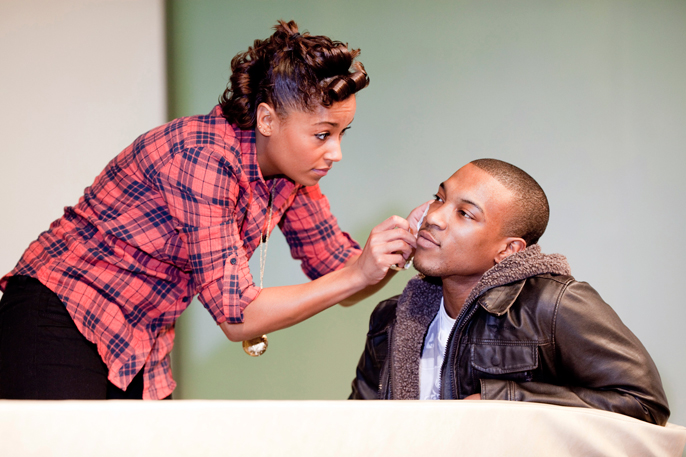 Off the Endz is the gripping new play by Bola Agbaje a rising star in British theatre. It's the story of David, Kojo and Sharon, three childhood friends from the same inner London housing estate. On the surface they may have chosen different paths but beneath it their lives are all as equally troubled and unsure.
The play begins with David's arrival on Sharon and Kojo's doorstep bloodied and bruised. Sharon soon patches him up and it turns into a playful reunion which leads to the promise of a place to stay.
David is impressed by the trendy flat complete with the modern day essentials of flat screen TV and Sky Plus. He's then amazed to discover that it wasn't a scam that got the goods but good old fashioned hard work.
Bola Agbaje has successfully created a cast of characters that you may not like but you at least feel for.
David is lost and angry. Cheeky and funny one minute; he can switch on a person in an instant if his world view is challenged. Nothing is his fault, his troubles were caused by others – the system is blocking his success.
Sharon, a nurse, is ambitious and dreamy. She wants to leave the 'endz' but won't settle for anything less than the three bedroom house of her dreams. Along the way falling victim to the consumerist culture that has claimed many so in Britain over the last 18 months.
Kojo has thrived while free from David's influence. He got a job the hard way, proving himself with an internship and then fighting to remain at the company. We see that he has grown up as he struggles to balance Sharon's desires with the financial realities of their situation.
The whole cast is excellent, Daniel Francis effectively conveys Kojo's frustration at his increasingly desperate situation. Ashley Walters' portrayal of David is in equal parts both menacing and witty. And Lorraine Burroughs is brilliant as Sharon. She has a real swaggering manner when telling the boys what's what.
Off the Endz is a riveting and humorous play that carries with it an undercurrent of sadness. David's failure to listen even to those that love him, Sharon's flighty need for the best of everything and Kojo's inability to express his self will leave you exasperated at times.
An engaging and enjoyable evening was had and I highly recommend catching this play while you can.
---
Related links
Off the Endz is at the Royal Court until 13 March, 2010
Afridiziak Theatre News review of Detaining Justice
Afridiziak Theatre News interview with Ashley Walters
Afridiziak Theatre News interview with Bola Agbaje