Naked Soldiers, Warehouse Theatre
Published:

Tuesday, June 8, 2010 19:10

| Review by:

Matt Shaine

|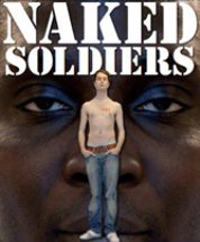 Set primarily in a burnt out shell of a flat, Naked Soldiers is a thought provoking and insightful delve into modern racism and the lives and fortunes of two very different men, temporarily forced to share each other's company, experiences and opinions.

After a near-fatal racially motivated stabbing, 17 year old Tony flees to the shelter of a nearby desolate flat, only to find Jamal, an African refugee, hiding in the shadows, both literally and figuratively. Forced to co-exist in the squalor of their hideout, each learn about the others' prejudice, hardship and roots during a dialogue of discovery and insight.

The Warehouse theatre in Croydon is a small and intimate venue, where the drama is played out just feet in-front of you. It's rather voyeuristic, which adds to your emotional involvement, as you almost feel a part of the performance. The set is cramped and atmospheric, with dim blue lighting setting a downcast tone. The minimalist nature of the scenery intentionally focuses your attention on the actors and content of the dialogue.

The two leads play convincing and charismatically captivating performances. Adam Sopp, playing Tony, is an energetic and clearly accomplished actor, who also delivers humour and style to a complex character. Ewart James Walter's performance as Jamal, in comparison, is considered and expressive, whilst hugely passionate and immensely gripping. His facial expressions and body language speak almost as loudly as his powerful voice. Ashley Gerlach, as the stab victim Tyrone and Elisabeth Dahl, playing Sally, Jamal's case worker, complete the talented cast.

Tearing away at the fabric of human nature, Naked Soldiers is an intense, yet hugely enjoyable and thought provoking play. Caution is advised, as content and language are strong.
---
Related Links
Naked Soldiers is at The Warehouse Theatre until 20 June, 2010
Afridiziak interview with Mark Norfolk, Naked Soldiers