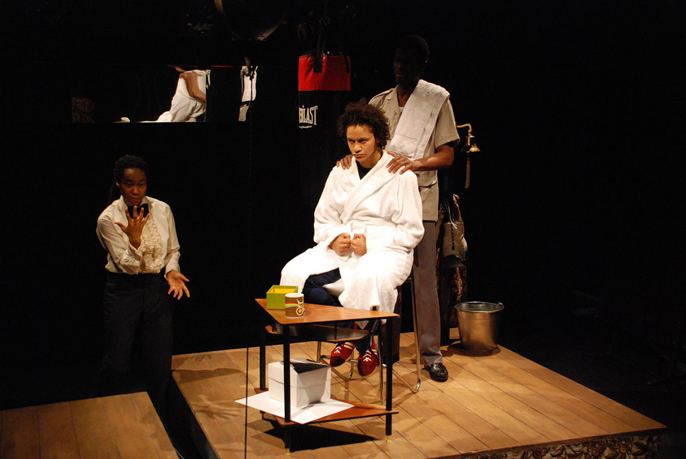 Written and produced by Mojisola Adebayo, Muhammad Ali and Me is a play which synchronizes stages of both Muhammad Ali's and Adebayo's lives. Performed by Charlie Folorunsho, Jacqui Beckford and Mojisola Adebayo, the play is acted in a boxing ring with the three actors playing multiple roles, projecting several identities into one. Minimal props are used to create each scene; there is a stand of televisions to help integrate both historic scenes of Ali and revolutionaries such as Malcolm X.
On behalf of the unhearing Beckford also signs on the television when performing with the cast. Mojisola acts the role of a seven-year-old girl in a foster home, experiencing neglect and abuse. When Mojisola who is also called Susan experiences abuse and becomes disturbed, she falls into an unconsciousness morphing from Susan the young girl to Muhammad Ali the boxing legend. There are indications of abuse, but the actions are not played out for the audience to see, the scene tactfully synchs back the life of Muhammad Ali.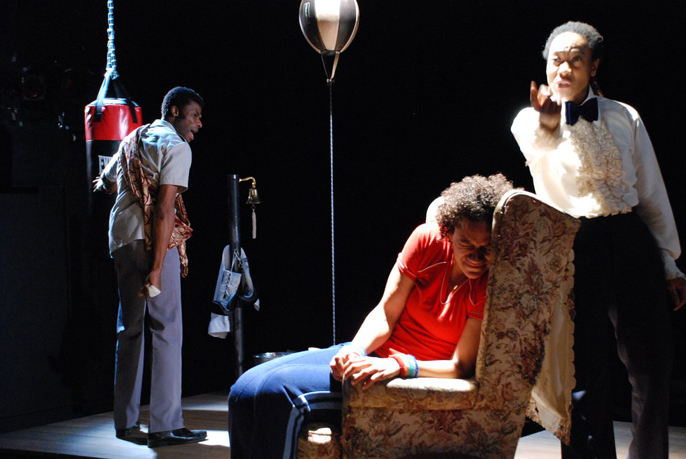 Mojisola's imitation of Ali is credible, his characteristics, accent and lighthearted haughtiness is consistently accurate when she plays him on stage. During the times she experiences misfortunes, highs and lows as a black girl growing up in the UK, there are references and jokes which rhythmically keep the play rich with humour. The jokes range from her era to Ali's, keeping a good flow within the play. This show is a must-see for Muhammad Ali fans.
---
Related Links
Muhammad Ali and Me is on until 29 November at the Oval House Theatre