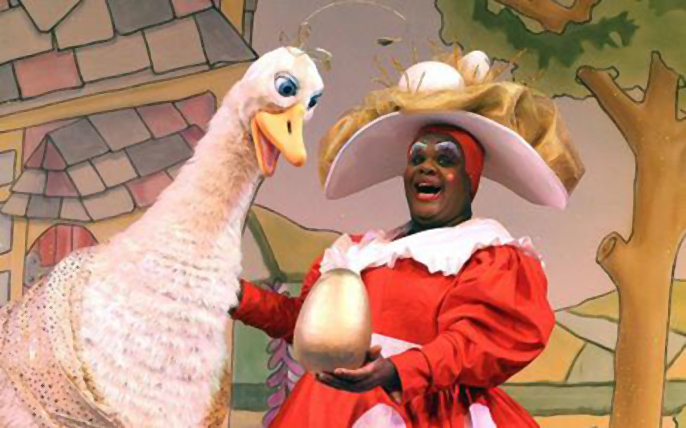 Coo, eee, ladies and gentlemen, boys and girls, welcome to 'Hackney Topia', the home of Mother Goose; Hackney Empire's pantomime offering for this festive season.
Mother Goose, played with ease and experience by Clive Rowe, finds herself caught in between sibling rivalry when Vanity, (Susie McKenna) the evil sister of Charity (Sharon D Clarke) sets her sights on corrupting the mother of all mothers with the help of her two stooges Baron Bonkers (Anthony Whittle) and Frightening Freda (Tameka Empson). The good Charity sends Priscilla the golden egg laying Goose to protect Mother Goose from the evil of Vanity.
The show opens with the soulful vocals of Charity singing I'm Every Woman supported by a live big band, which sets the tone for this fun-filled rollercoaster of a pantomime. The audience is invited in almost immediately with the infectiousness of the music, the many call and response moments and the incidental banter with the audience, which shows the improvisational skills of the performers.
Mother Goose's first entrance in a pie is only the beginning of a host of outrageous entrances and costumes which excel in this show. Not wanting to give the 'game' away, a favorite of mine had links with the Olympic games. This traditional pantomime is laced with contemporary London a-plenty with references of "Innit", Beyonce's Crazy in Love, the BBC's Strictly Come Dancing judges and break-dancing skeletons.
I watched the show with my four-year-old daughter, and after each big song number, she would ask, "Is it finished?" I would say "No" and she would cheer 'Yeah there's more." Her tears at the end are a testimony to how fantastic this show is, she did not want to leave. We will see it again! A thoroughly fantastic family show that gets five stars from me.
---
Related Links
Mother Goose is playing at the Hackney Empire until 10 January 2009