Monkey Journey to the West outside the 02
Published:

Wednesday, 17 December, 2008 9:01 PM

| Review by:

Ronke Lawal

|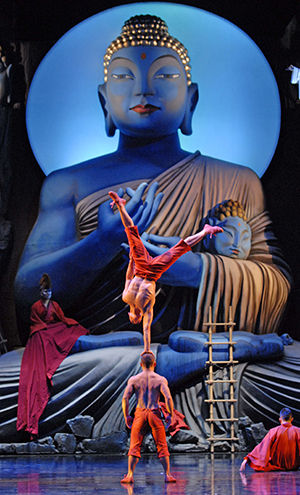 We begin our journey with Monkey who leaves his home to find immortality; when the great priest he seeks it from refuses to show him how to find it, he continues on his quest with some very mischievous antics along the way. However he is soon forced to face the error of his ways and is given the worthy challenge of accompanying a Holy Monk, Tripitaka, Pigsy, The White Horse and Sandy on a holy pilgrimage to Buddha.
This veritable feast of visual and performance arts is a spectacular array of Chinese opera, illustration, acrobatics, martial arts, contortionism and drama. One couldn't help but be mesmerised by the beautifully produced choreography and enchanted by the melodic score of the live orchestra. Though all the performances were exceptional it's impossible not to develop a soft spot for the lead character, Monkey, who played a cheeky yet lovable hero throughout the production.
This is a truly stunning theatrical experience with all the makings of a classic - a five-star theatrical journey to remember.
---
Related Links
Monkey's World, Outside of the O2, Greenwich, London SE10 0BB until 4 January 2009