Misterioso, Riverside Studios
Published:

Monday, November 2, 2009 9:09 AM

| Review by:

Lindsay Johns

|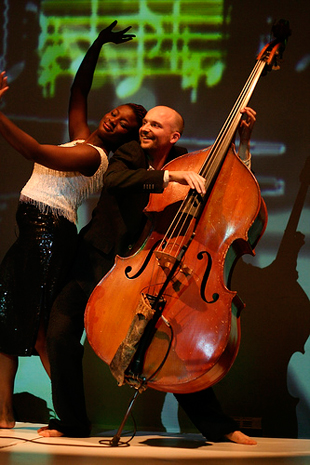 Subtitled "A Journey into the Silence of Thelonious Monk," Misterioso is the Riverside's October Black History Month offering. Billed (albeit a little disingenuously) as a play, when in fact it is far more of a live musical performance, connected by vignettes and short soliloquies, it examines the life of the musical colossus, iconoclast, legend and jazz pianist Thelonious Monk.
Set against a backdrop of visceral racism in segregated 1950s America undergoing the McCarthy purges, the conversational monologues which link the dizzyingly brilliant displays of jazz virtuosity are narrated by Monk's white patron, friend and perhaps quondam lover, the self-proclaimed Jazz Baroness Nica Rothschild. Tamsin Shasha's performance explores with an assured depth the friendship that organically develops between her and Monk, and under Filomena Campus' direction feels sure and controlled.
The pre-recorded voice of Monk, as spoken by jazz musician Cleveland Watkiss, monologues by Billie Holiday and mention of luminaries Bud Powell and Charlie Parker all complete the period evocation and serve to shed valuable light on the white fascination (and at times dangerous fetishization) of black music and musicians.
With the Italian lyrical interludes acting as a gracious nod to writer Stefano Benni's background, multi-media visuals projected onto a screen, audience participation which evokes the Harlem jazz club milieu, complete with tables and a hostess who sits, drinks and chats with the audience, not to mention some intriguing, deft aerial work, there is much to admire and entertain in this production.
The band are led by the effortlessly sublime saxophonist Tony Kofi and the hauntingly beautiful solos, be they on sax, piano, vibraphone or drums, fully draw out the pathos of Monk's tortured plight, his loneliness and the metaphysical dimension of his silence.
Poetic, sensual and brave, Misterioso functions both as a serious contemplation of musical genius and as a fervent celebration of Monk's remarkable legacy, not to mention the jazz aesthetic in general. Jazz - the greatest musical invention of the 20th century, a music which created and defined an unashamedly cerebral black aesthetic, one that still powerfully resonates to this day, is without doubt the evening's true protagonist and star.
The mystery of Monk's silence - a silence which consumed him for the last seven years of his life, is summed up in one of the play's concluding lines, when he asks: "What is the point of talking, when you can play like that?" Having heard Thelonious' music, only a fool would argue with the profundity of that rhetorical question.
---
Related links
Misterioso is at the Riverside Studios until 8 November, 2009