Markus the Sadist, Bloomsbury Theatre
Published:

October 26, 2009 11:58 PM

| Review by:

Sophia Jackson

|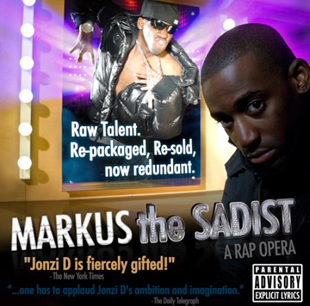 Ashley 'Bashy' Thomas has got that Midas touch going on so it was with baited breath that I awaited his performance in Jonzi D's latest production, Markus the Sadist. Bashy, whose former day job was on the buses, has steadily been climbing the ladder to fame in the music world so it was interesting to see how his talents extended to that of the acting sphere.
From the get go it's clear that Bashy as Markus the Sadist is a case of life imitating art, imitating life. He's not quite playing himself but the similarities are there. What's also clear is that this isn't your average theatre production. Oh, no. If you know British, hip hop veteran Jonzi D then you know he likes to do things differently and this play is told purely in bars. It might sound tedious but it works and it works well.
The show opens with the Battlescars event and Markus is the reigning champ. Keeping in line with a typical MC battle, no element of current affairs are off limits. So much so that not only do the crowd get a lyrical battering but so to does ex-Sugababe Keisha Buchanan. Cue sharp intake of breath from the crowd.
Markus Wright is on the verge of music success and he's not the only one who knows it. Despite his mother's (Maureen Hibbert) attempts to keep him focused on his studies his desire for musical stardom leads him onto a path of distraction.
Introducing, Nolan Weekes, who plays slick but dodgy A&R man, Top Blizzy and having signed the contract and his morals away, Markus Wright becomes Markus the Sadist and so things take a turn for the worse. As the dark side of the music industry prevails, Top Blizzy makes it clear that Markus staying true to who is isn't going to be a money spinner so we see the Americanisation of Markus as he loses his identity and gets sucked into Blizzy's bleak world.
The play charts the highs and lows of Markus becoming an overnight success story for all the wrong reasons as the joys of a bulging bank account overshadows morals and better judgement. Songs (Gun in Your Ass), lyrics and videos portraying him as misogynistic and ignorant, cause despair for his friends and a sunken heart for his dear mother.
Markus the Sadist is the future of theatre in terms of engaging younger audiences who may feel that an evening performance arts isn't' for them. I say this because visually it uses mediums and sexy special affects can dazzle and keep you absorbed in the plot.
Mix this in with humour, sharp writing and a fast paced production and you can't loose.
Then to combine this with the skills of composer and musical director, Soweto Kinch is nothing short of genius. The award-winning, international star is a truly inspiring and pioneering musician and one of the hottest music producers around. He provides a banging soundtrack with jazzy beats that bubbles away and moves the play forward leaving the audience on an exhilarating high.
With so many people trying to make it in the music industry, Markus the Sadist provides insight that goes beyond the glitz and glamour and shows the pitfalls of signing a contract and to an extent your life away before you've even had a chance to count 16 bars.
Markus the Sadist is touring the UK until October 30, 2009.
---
Related links
ATN interview: Bashy
Markus the Sadist listings information
ATN interview: Jonzi D